7 Evangelicals Who Made an Impact in 2017
Mike Pence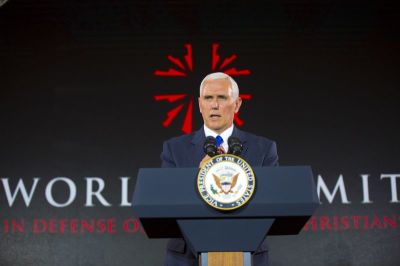 In 2017, Mike Pence went from being the governor of Indiana to the vice president of the United States.
For many evangelicals, Trump's selection of Pence, a conservative with a strong pro-life record, as a running mate in the 2016 election was what helped win over their support in addition to Trump's vow to select conservative judicial nominees.
According to The Hill, the 58-year-old Pence broke more ties in the U.S. Senate in his first year in office than any other vice president in history, having broken six ties. He was also the first vice president to cast a tie-breaking vote to confirm a cabinet member, when he voted in favor of Education Secretary Betsy DeVos in February.
By comparison, former Vice President Joe Biden did not cast one tie breaking vote during his eight years in office.
Throughout 2017, Pence delivered symbolic remarks at a number of events that showed certain Christian communities that the Trump administration stands with them.
In January, the vice president spoke at the March for Life in Washington, D.C. and also spoke at the World Summit of Persecuted Christians in Washington, D.C., an event organized by the Billy Graham Evangelistic Association.
In October, Pence spoke at an In Defense of Christians solidarity dinner in which he promised that the U.S. would bypass the United Nations and provide aid directly to organizations that are on the ground helping religious minority communities victimized by the Islamic State.