8 Dead, 28 Injured in Stampede After Church Advertises Free Food at Prayer Meeting in Zambia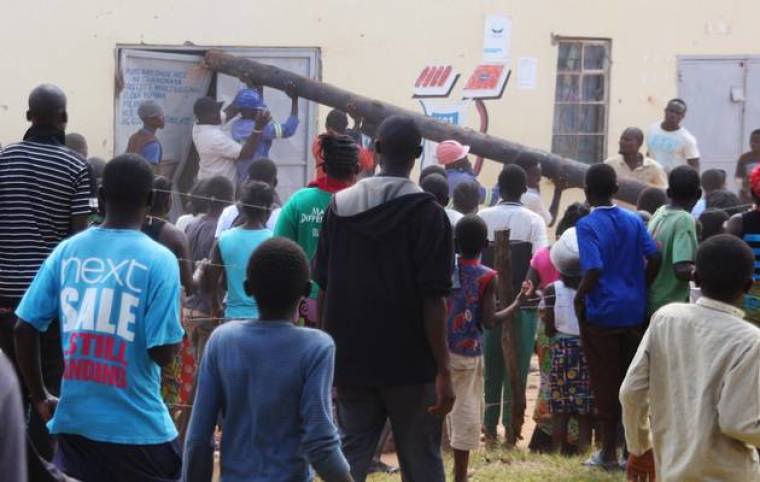 At least eight people were left dead and another 28 injured when a stampede for free food being distributed by the Church of Christ in poverty-stricken Zambia erupted at a prayer meeting that attracted some 35,000 people Sunday.
Zambia police told local media that the stampede occurred in the nation's capital, Lusaka, at an outreach program at the Church of Christ's Olympic Youth Development Center.
Police spokesperson Esther Mwaata Katongo said among the dead were six females, an adult male and a young boy. Five of the victims are said to have died on the spot while the remainder died at local hospitals.
Katongo said the prayer meeting was organized by a group affiliated with the Church of Christ called Lesedi Seven.
"The victims are among the 35,000 which the group called Lesedi Seven, had invited for prayers at OYDC. The group had also organized food hampers to distribute to people. This Lesedi Seven is a grouping under Church of Christ," said Katongo.
A representative of Lesedi Seven, which is a marketing firm based in South Africa, told The Christian Post Monday that they were not an arm of the Church of Christ but did work for them. The individual noted, however, that no one was available to comment on the stampede.
An official at the Olympic Youth Development Centre in Zambia, where the event was held, and asked to remain anonymous because he was not authorized to make public statements, said the number of casualties being reported by local media was a safe estimate but they were still gathering information and it would be hours before they had an exact count.
"There was a stampede but we are still trying to gather information as to the number of casualties...Our officers went out to the field to visit the hospitals so that we ascertain exactly how many people have been injured," he said.
He debunked a report that speculated that as many as 100 people may have died.
A ticket to the tragic event posted on Facebook advertised "Free Entrance & Free Food Parcels." And many people blamed the church for the deaths.
"It was a noble idea but maybe the food parcels should not have been advertised but instead announced it when people had already taken their seat........sad development though," wrote Sylvester Besto Mangani.
"A responsible Church should have known that you don't bribe people to come to a meeting. The result is always bad. Either this, or those who were not to manage to get the food were going to insult God. You don't do this," noted Derick Chekwe.
Local activist Mwansa chama said he heard that a number of the people died still clutching to food they grabbed after arriving more than three hours early for the event.
He noted that people had begun arriving at the venue for the prayer meeting from the "ghettoes" around the stadium as early as three hours before it was scheduled to begin.
"Sources report that, even in their death two (of the dead) were discovered holding on to a bag of mealie meal while the other one with a bottle of 'OLE' cooking oil logged-in his pocket," said Chama.
"I feel sorry for these innocent souls they have left wives and children behind and in a proper destitution. The authority should not just end on instituting an enquiry of what transpired and who should be brought to book, I know they are good at doing that, but they should go beyond the rationale as to why people came as early as 03 hours," he said.
"It's not a bad thing for the church of Christ to give free food to the deserving 35,000, even scripture says so. But what has left me shocked is that, is our country at war or are we in a crisis of food for the body of Christ to take up the duty of the [DMMU].Because for someone to die for food then it could be something very serious 'I mean very serious,'" he further noted.
The Church of Christ in Lusaka was not available for comment Monday.
According to the World Food Programme, Zambia, a landlocked country in Southern Africa faces numerous challenges including food insecurity, undernutrition, chronic poverty and natural disasters.
Unpredictable weather patterns have affected communities over the last decade. Farmers rely heavily on seasonal rains and subsistence-style farming is common in the country.