9/11 in NYC: 2014 Prayers and Remembrances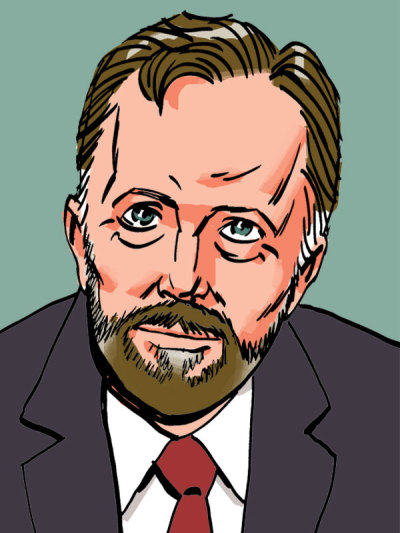 Every day is eventful in New York City. So many people; remarkable energy abounds; Stimulating sounds from every direction. Such a mixture of behaviors and beliefs! The taste and price of freedom. Walking through Grand Central Station as I do most mornings and evenings, I easily imagine visiting the intriguing, intergalactic café in Star Wars episodes. Each day the Lord has made, all precious, including our annual remembrance of 9/11.
September 11, 2014 began for me with the 7:00 AM New Canaan Society men's weekly prayer and Bible study at Rockefeller Center. The attendance of more than 80 men was excellent. Dr. Timothy Keller urged the men to engage in humble trust in God, restoring some child-like attitudes. There was only a passing reference to it being the 13th 9/11 since the vicious attacks on our World Trade Center. Nevertheless, many of us who mingled after the meeting, including some whom I have known for decades, recalled events and opportunities for service that had so united us after 9/11.
From Rockefeller Center I took the subway to St. Paul's Chapel, directly across the street from where the World Trade Center Twin Towers had stood, on the east side of WTC. Thirteen years ago those towers became a huge pile of massive steel, toxic ash, broken concrete, human remains, and burning fuel from the airplanes and massive tanks full of heating oil for the Towers.
During the two years that NYC was the nation's capital, President George Washington had worshipped in this beautiful Chapel 225 years ago. In 2001, this church, built in 1764, withstood the massive destruction across the street, without even a broken window or a damaged brick. Immediately, and for nearly a year, the Chapel became a 24/7 center of hope, healing, and restoration for thousands of rescue and relief workers—a place for prayer, massages, and even naps on the old pews. People still often come to this Chapel for solemn prayer, and the tourists only whisper as they walk through.
At St. Paul's Chapel I met with the accomplished poet J. Chester Johnson , who had volunteered nearly every day for that year of special ministry, constantly serving the workers and breathing in the toxic air – air that our government falsely assured everyone was safe! His own major health issues now remain a burden. Mr. Johnson gave me a copy of a poem and permitted me to share it. His "St. Paul's Chapel" celebrates the 9/11 miracles and ministries of the Chapel, including these lines:
It stood. Not a window broken.
Not a stone dislodged.
It stood when nothing else did.
It stood when terrorists brought September down.
It stood among the myths. It stood among the ruins.
To stand was its purpose, long lines prove that…
It is the standing people want:
To grieve, serve and tend…
It stood.
After thanking poet Johnson, I went around the corner to check my mail at the Church Street Post Office, which is just across the street on the north side of WTC. Inside its massive corridors are displayed several artworks that loving people created 13 years ago expressing their compassion for us in NYC in creative ways. One of my favorites is a stunning framed painting that hangs over the counter where I sort my mail. There is no indication of either the title or the artist's name. It is a dramatic vision of the hands of the Lord lifting up several WTC buildings. May I propose the title, "He's Got the Whole World (Trade Center) in His Hands"?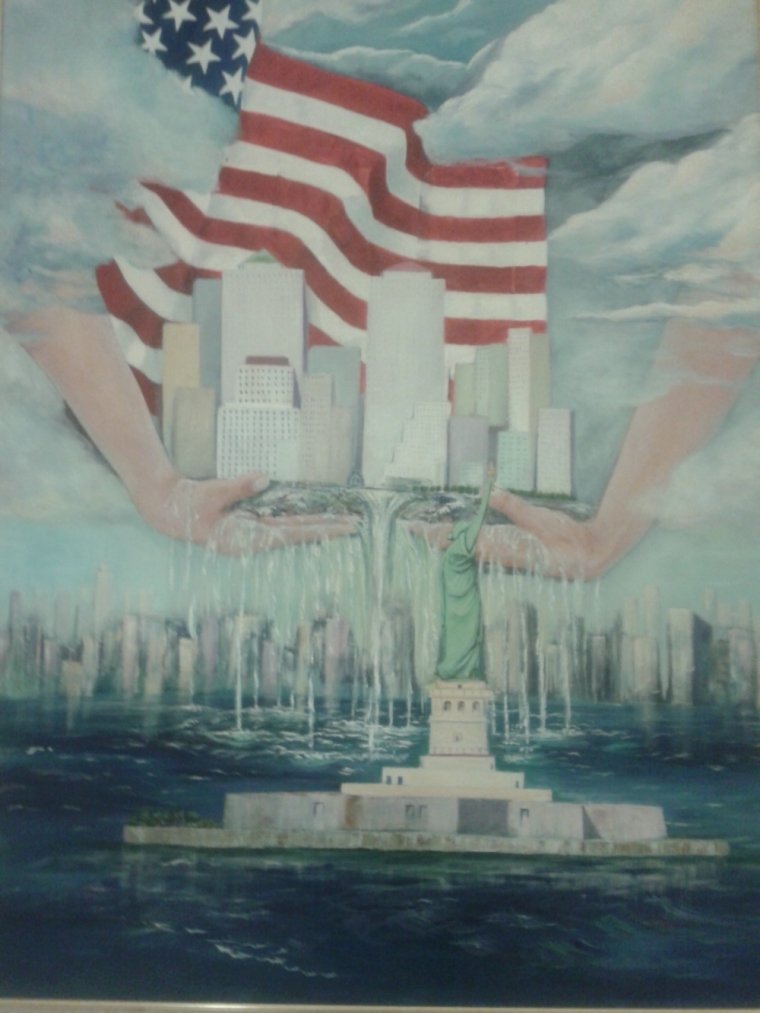 As I walked further around Ground Zero, I noted that there were more than the usual number of police, fire department, and National Guard officers – but fewer tourists than usual, probably because some of the tourist attractions were closed that day to everyone other than the victims' families. Individually, I thanked police, fire, and National Guard officers for their awesome service. Pleasant street missionaries were handing out Gospel tracts and a wonderful CD of Christian songs from a Mennonite choir in Pennsylvania.
Departing from a WTC station, I rode a train to Newark, NJ, for lunch with our daughter and then ministry planning meetings. While I waited in the restaurant for our daughter, I placed a Skype video call to our son, strongly expressing my gratitude for his receiving and obeying the Lord's voice directing him not to come to WTC on 9/11/01. He was grateful. When our daughter arrived, we consumed splendid salmon salads while we shared our deep joy for the Lord's grace-filled protections – on 9/11 and every day. Afternoon ministry planning meetings focused on addressing the spiritual malaise affecting so much of the New York metro region now. We recalled that for weeks after September 11, 2001, the churches were filled. People were earnestly seeking prayer, expressing gratitude, and looking for answers. Now there is more "comfortable numbness".
Late in the afternoon, a different train brought me from Newark to Penn Station in Manhattan and then a bus ride to Pier 83, to join the Prayer Cruise on the Circle Line. On the boat was a multi-ethnic cluster of brothers and sisters gathered together to pray for New York, America, the United Nations, and the rest of the world – as the boat repeatedly circled Manhattan for three hours. Along with the prayers were testimonies – such as from the Honorable James Ryun, world-record runner, Olympic silver metal winner, and former 5-term congressman from Kansas; Silas Titus, leader of a ministry training and prayer group in Lower Manhattan; and Jim Solberg, president of Bridges for Peace [www.bfpusa.org], an overtly Christian charity in Israel that bridges powerfully to the Jewish people. Spiritual music was offered by a gifted young violinist "Yashua" and Evie Tornquist, the vibrant, award-winning Christian recording artist especially popular in the 1970s and 1980s. A tasty dinner was included on the 3-hour prayer cruise, too.
Three hours may seem to be a long time for a prayer meeting, but it felt like only a few minutes. Since we were on a boat circling Manhattan Island, you know that no one left early. In fact, as the boat docked at 10:00 PM, we were in the middle of a testimony and none of us wanted to leave! The boat's managers looked a little concerned and directed security men to help quickly usher us off.
As I described on 9/11 last week, there are major moral and spiritual issues surrounding 9/11 that the media mostly misses. "Political correctness" is neither correct nor beneficial to public policies. It is time again for earnest prayers and spiritually informed actions – whether we are at Rockefeller Center, St. Paul's Chapel, the post office, WTC, lunch with family, strategic meetings, prayer cruises, or wherever we are!
May the amazing Lord of awesome grace further empower each of us for increasingly effective lives, relationships, prayers, and service.
Dr. Paul de Vries is the president of New York Divinity School, and a pastor, speaker and author. Since 2004, he has served on the Board of the National Association of Evangelicals, representing 40 million evangelical Americans.