'90 Minutes in Heaven' Author Don Piper: 'Heaven Is Real, and I've Seen It'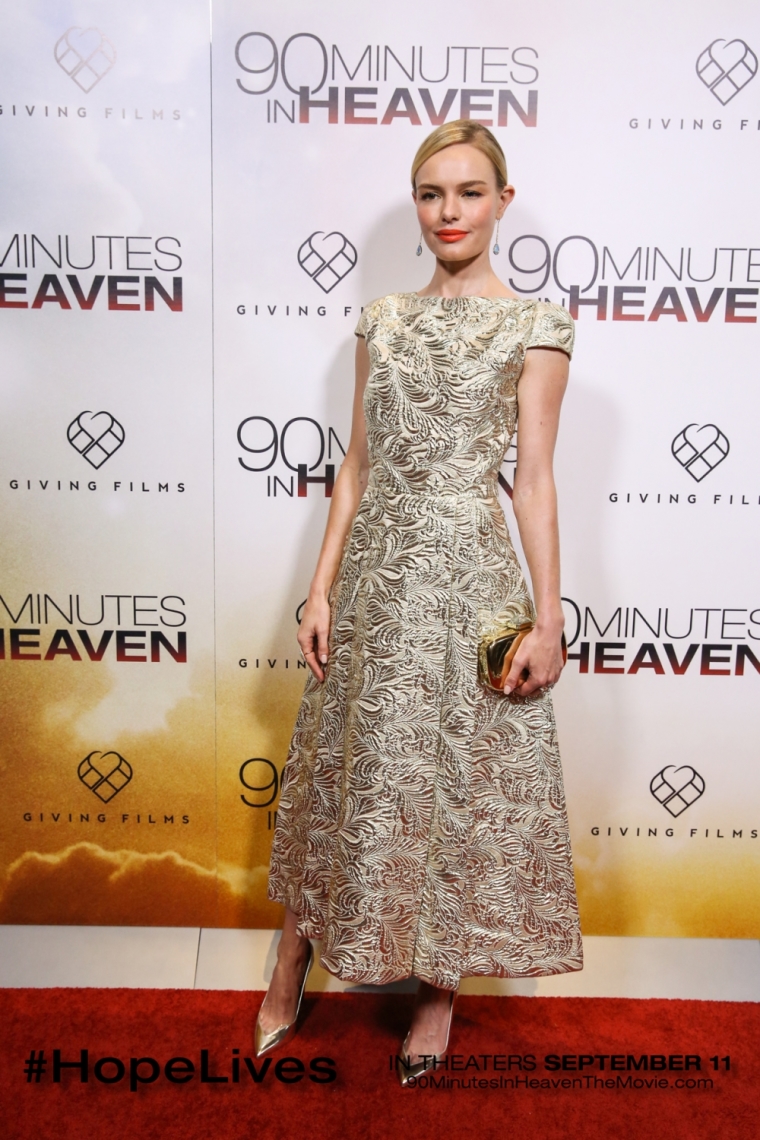 Piper explained that he first learned that the book would be turned into a movie about a year ago. "So here we are tonight in Atlanta … overwhelmed, frankly."
Actress Kate Bosworth, who plays Piper's wife in the movie, told CP that the Atlanta premiere was the first time she'd seen the completed film. She explained that her husband, Director Michael Polish, was curious about her opinion as she watched.
"I was so riveted by the movie," she said. "My husband was sitting next to me. … About two-thirds of the way through he said, 'Do you like it?' Because he didn't know. And I said, I love it."
Bosworth explained that she kept in close contact with Eva Piper before filming. "I wanted to know as much as I possibly could about her experience because it was important for me to tell her story truthfully. She was so generous and open and kind with me, and so I was able to do my job better."
The actress even revealed that she improvised dialogue in a particular scene based on conversations with Piper, and the power of her unscripted lines hit home. "I remember Hayden started to cry, because it's real life." To help lend credibility to her mother role in the film, Bosworth also contacted all of the real-life Piper children to learn their personalities.
For Bosworth, "90 Minutes in Heaven" was a film project like no other. "Sometimes you're given material that you really respond to. This was of bigger importance for us than most projects, so we felt like that was a real blessing to be able to tell the story of a married couple who have gone through so many difficult things together, but who also have found the light together. That was important for us."
Audience reaction to the film made for an even sweeter experience for Eva Piper. "It made the film even more powerful. … There was nothing like last night. To be in the Fox Theatre and to hear the gasps, to hear the sniffles, to hear the laughs. … "
Piper said she had to keep dabbing away tears. The film was so accurate that she said it was like "watching a home movie."
Don Piper's book is what got Polish interested in a version for film.
"I loved the story from the book," Polish said. "I thought it would make a great cinematic piece. It's what good movies are made out of — a great struggle and hero's journey. But the hero in this happened to be his wife."
When it came to the actual depiction of Heaven in the film, Polish said that he conferred heavily with Producer Rick Jackson, because "as Don puts it, it's an 'indescribable' place. So we were able to get some points of his observation of it and recreate what we think he saw. … Our depiction of Heaven was to make a great family reunion and really stay true to what Don lived and what Don experienced. … We haven't been there just yet, he gave us a great place to go."
Producer Rick Jackson, the founder of Giving Films, a nonprofit film company that plans to donate all of its proceeds to charity, summed-up the main takeaway for moviegoers.
"We all get run over by trucks in our lifetimes, metaphorically. We all go through that and we wonder how we're gonna get through it. Will there be a better time? Will there be a better day? We start self-doubt. We start questioning ourselves or our spirituality … this movie is a roadmap to show you that you can get through it, and live to [see] a better day."