Aaron Rodgers Takes Jab at Russell Wilson, Says 'God Is a Packers Fan'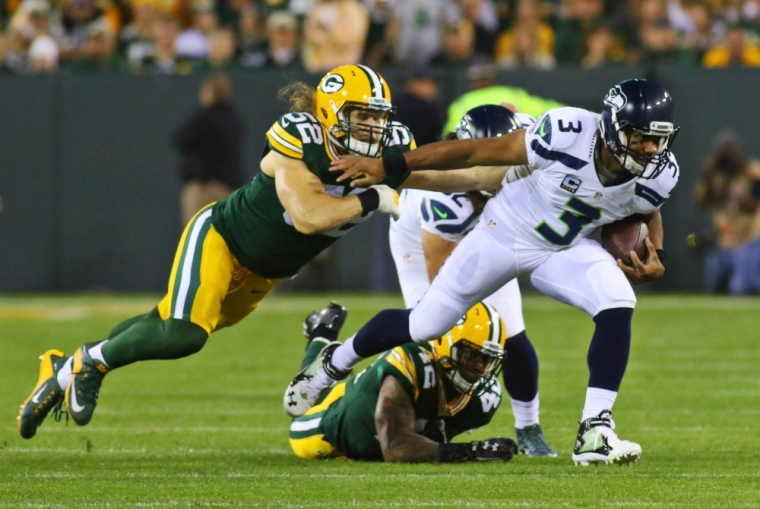 In 2014, Green Bay Packers quarterback Aaron Rodgers chided Seattle Seahawks quarterback Russell Wilson for surmising that God has a hand in the outcome of NFL games, and Rodgers revisited that point after Sunday's game.
"I think God was a Packers fan tonight, so he was taking care of us," Rodgers quipped after the Packers defeated the Seahawks 27-17.
When the Seahawks beat the Packers in the NFC Championship last January, Wilson suggested God was behind the victory. Although both quarterbacks are Christians, Rodgers had a completely different perspective on the matter.
"I don't think God cares a whole lot about the outcome," Rodgers previously said during an interview on ESPN radio. "He cares about the people involved, but I don't think he's a big football fan."
Before appearing in Super Bowl XLIX, Wilson insisted that God did care about NFL games.
"I think God cares about football," Wilson said. "I think God cares about everything He created."
In an interview with Pastor Miles McPherson at The Rock Church in San Diego, California, Wilson revealed that God even spoke to him during Super Bowl XLIX. During the big game, the 26-year-old Christian QB threw an interception instead of passing to running back Marshawn Lynch — a move that cost his Seahawks a second-straight championship ring.
"The play happens, and they pick the ball off. And I take three steps," Wilson told McPherson in The Rock Church interview. "And on the third step, God says to me, 'I'm using you. ... I want to see how you respond. But most importantly I want them to see how you respond.'"
Rodgers has also been vocal about his faith for some time, which stems from his childhood.
"I grew up knowing what a stable relationship was by my parents' example and how it centered on Christ," Rodgers said in a Beyond Ultimate report. "When our family had its ups and downs, I knew my parents relied on God for everything and He always got us through those rough spots."
Still, the football player has admitted to struggling to maintain that faith.
"It is my daily walking in faith and dealing with life issues and not giving into temptation that can be very challenging," he said. "I am always struggling in finding time to daily grow in my faith. If you are not in the Word or focusing on Christ, or into prayer, you can't help but slip at times."
Rodgers says that John 10:10 is his favorite Bible verse because he's reminded that the Lord is his rock.
"He has always been there, always present at good times and bad; and to me, when I feel His presence, my life is full," he previously said.