ABC's LGBT Miniseries 'When We Rise' Suffered Low Ratings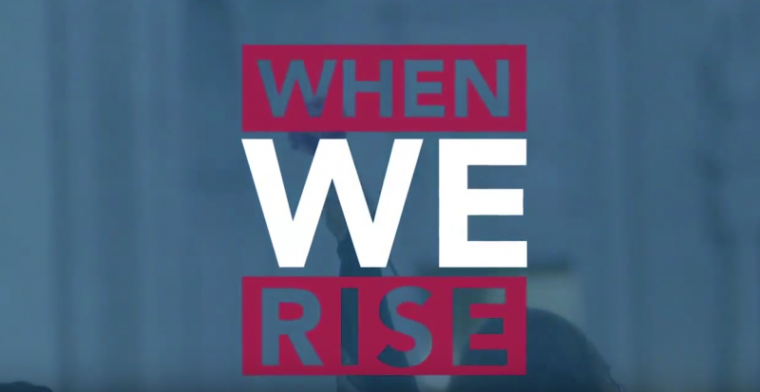 The ABC miniseries "When We Rise," which centered on the history of the LGBT movement in America, experienced low ratings, according to early reports.
The four-part series ran last week on network television, with episodes airing Monday, Wednesday, Thursday and Friday evenings. Despite the extensive ad campaign in advance of the miniseries' debut and buzz around its controversial subject matter, "When We Rise" lost out to other TV programs and saw rapid decline in its viewership over the course of the week.
When covering primetime ratings for last Monday, deadline.com noted that "viewers largely shunned it, with the opening two hours averaging a paltry 0.7 in 18-49 and 3 million viewers coming off the strong Bachelor lead-in."
"'When We Rise' was the lowest-rated program on the Big 4 and second lowest-rated overall last night, matching the CW's 'Supergirl' (0.7, even with last week). The CW's 'Jane The Virgin' (0.3) was off by a tenth," noted deadline.com.
"At CBS, 'Man With A Plan' (1.2), following a 'Big Bang Theory' repeat (1.3), dipped a tenth, while 'Superior Donuts' (1.2), '2 Broke Girls' (1.2) and 'Scorpion' (1.2, adjusted up a tenth in the finals) all held steady."
Viewership decreased as the week progressed, with Variety reporting Thursday that ABC had attempted to modify their schedule to help reel in viewers.
"ABC moved 'Modern Family' back half an hour in an attempt to provide miniseries 'When We Rise' with a bit of a boost. It didn't quite work," reported Variety.
"While 'Modern Family' notched a 2.0 in the demo and 6.37 million viewers, 'When We Rise' continued to falter with a 0.6 demo rating and 2.05 million viewers, lower than its premiere on Monday."
Chronicling the history of the gay rights movement from the early 1970s to 2013, "When We Rise" garnered controversy for, among other things, its portrayal of social conservatives and police forces.
An article on the conservative site NewsBusters published before "When We Rise" debuted denounced the miniseries, saying it "not only stereotypes Americans in Republican-controlled states as homophobic, but it also glorifies violence against police officers."
"Of course, judgement needs to be reserved until the miniseries premieres. But so far, ABC's marketing has not delivered any hope that the network won't stop alienating Middle America," noted NewsBusters.
Regarding the preliminary reports indicating poor ratings, "When We Rise" creator Dustin Lance Black argued that the early numbers did not indicate the full story of support for the miniseries.
"Those numbers do not come in for another week or so, so the verdict on who's watching 'When We Rise' is not in yet," stated Black, as reported by the Advocate.
"We've always known, and it's always been our belief, that this show is going to excel in DVR and online, because that's how people watch miniseries now. This is not the era of 'Roots,' where there's three networks and you have to watch live. So, we're really hopeful, I have to say."
Black went on to state that he believed "the vast majority of viewers will watch on DVR. And if we can double our viewership on DVR, we're considered a hit."
Read 5 Historic Omissions in ABC's LGBT Miniseries "When We Rise"