Adrian Peterson's 2-Year-Old Son Assaulted, in Critical Condition: Christian NFL Star's Child Hospitalized After Severe Beating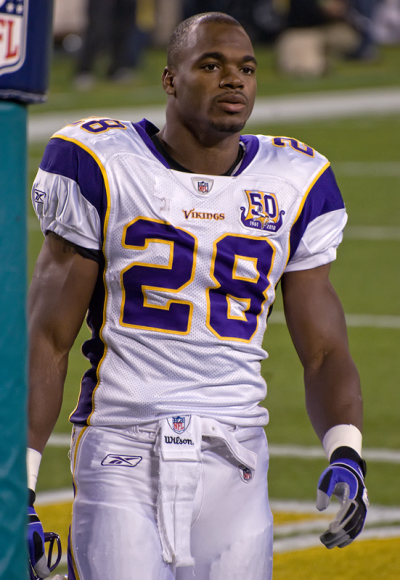 The two-year-old son of Minnesota Vikings star running back Adrian Peterson was reportedly assaulted by the child's mother's boyfriend, TMZ has reported.
According to reports, the child was in critical condition in a South Dakota hospital after being severely beaten by Joseph Patterson, the man believed to be dating the child's mother.
UPDATE: Adrian Peterson Son Dies: Vikings Players Offer Prayers After 2-Year-Old Dies in Shocking Abuse Case - CLICK HERE
Peterson immediately left to see the condition of his son, who emergency responders reported as unresponsive and the victim of "severe head injuries," relayed law enforcement.
When Peterson did not show up at Vikings practice on Thursday, Stu Whitney of the Argus (S.D.) Leader reported that Peterson was in Sioux Falls dealing with [a] medical issue involving [a] young family member that likely will be a police matter."
It is unclear when Peterson will speak to the media.
Peterson was named the AP NFL MVP in 2012 and is a five time pro-bowler. He also led the NFL in rushing yards in 2008 and 2012.
Peterson has also been open about his Christian faith, which he has credited for helping him through the loss of his brother as a child.
"Jesus Christ – He means the world to me. So many different situations I've been through, through my childhood and now my adulthood; I lost my brother at a young age. He got hit by a car right in front of me. I had to be strong for my mom. (I) held my tears and held her and comforted her during that time," Peterson said in an interview with "The 700 Club." "God just helped me get through that and made me stronger at a young age."
Peterson said that God has been a faithful presence in his life, no matter the circumstances.
"(Through) all the adversity and the hard times I've been through, God has always been present," he added. "I've always prayed to Him and asked Him to give me the strength to endure and to help others and to better understand the situation, or whatever situation I deal with in my personal life. And He has always showed up!"
UPDATE: Adrian Peterson Son Dies: Vikings Players Offer Prayers After 2-Year-Old Dies in Shocking Abuse Case