Adrian Peterson's Mother, Former Coach Speak Out in Support of NFL Star and Corporal Punishment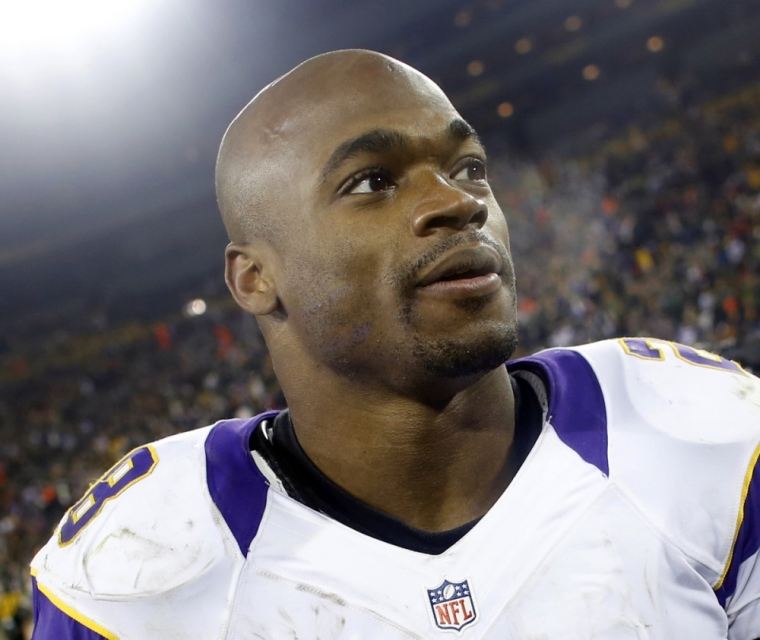 Adrian Peterson's mother and former coach have spoken out about the NFL star's upbringing and use of corporal punishment, which they say helped, not hurt, him while he was being raised.
Bonita Jackson, Peterson's mother, broke her silence after her son was indefinitely suspended from the Minnesota Vikings. He has been charged with child abuse against his four-year-old son, whom he admittedly used a switch on as punishment. The boy was left with bruises and cuts, but Peterson has said that he never meant to hurt his son.
He is "trying hard to be a good parent," Jackson told the press. She added that she and Peterson's father, Nelson, were "big disciplinarians," who used belts and switches, as well as their hands, to spank all six of their children. "When you whip those you love, it's not abuse, but love."
Peterson's former high school football coach, Booker Bowie, also weighed in on the situation and said that he, too, would use corporal punishment on his star athlete.
"Adrian understands corporal punishment," Bowie said. "It's not intended to hurt anybody, it's to get them going in the right direction. I have never had a problem with parents calling anyone complaining. The way Adrian came up, his parents, his mother was disciplining him. He understands it, it helped his teammates, his classmates. I think that's what he was doing (to his son)."
Even though Peterson has insisted that he never meant to hurt his son, but got carried away, sponsors have pulled their support and funding not only from the NFL star, but from the Vikings as well, leading them to indefinitely suspend the player as he sorts through the legal process.
"This is a good decision that will allow Adrian Peterson to resolve his personal situation and the Vikings to return the focus to the football field," the NFL said in an official statement on Wednesday.
He is due in court on Oct. 8