Adrian Peterson's Son's Alleged Killer Back in Police Custody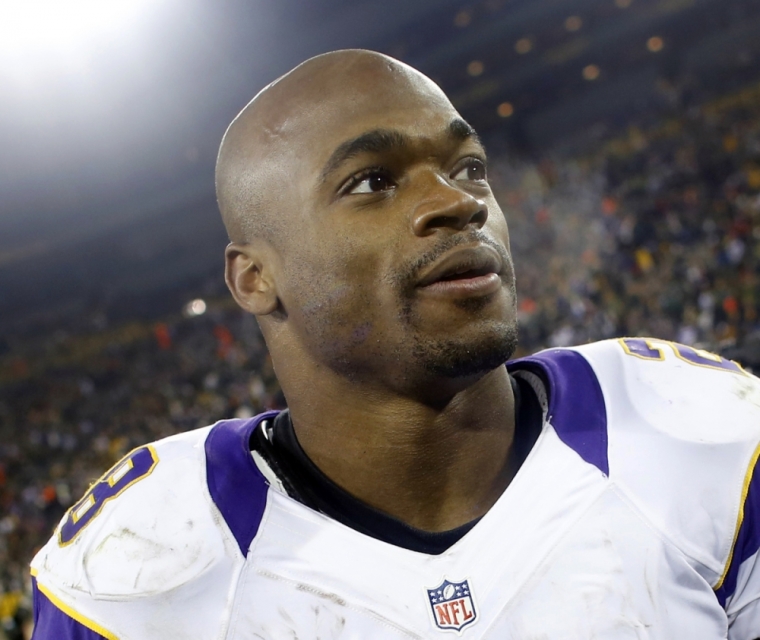 The man suspected of killing Adrian Peterson's 2-year-old son Tyrese Ruffin in 2013 is back in police custody after turning himself in Tuesday.
Joseph Robert Patterson was dating Tyrese's mother whom he lived with when he called 911 to allege that the 2-year-old boy stopped breathing after choking on a snack. However, prosecutors said Patterson beat the toddler which resulted in the young boy's death.
Last June, Patterson allegedly assaulted Tyrese's mother and faces aggravated assault and kidnapping charges, according to the Associated Press. Although he was released on $2 million bond in September, the Minnehaha County Sheriff's Office issued an arrest warrant for Patterson recently.
He turned himself in to South Dakota authorities after violating his bond terms by contacting Tyrese's mother, the AP reported. Peterson, the 29-year-old Minnesota Vikings running back, did not get the opportunity to spend quality time with his newly-discovered son before the toddler's untimely death in 2013.
While he only learned about being the child's father two months before he died, Peterson did admit that the death impacted him.
"I was planning on seeing him. I had a talk with his mom and we got some things together as far as financially helping her," Peterson said in a previous USA Today report. "Unfortunately, this situation took place. It's devastating."
While the suspended NFL player admitted he had support during the tough time, he also acknowledged that some people may not understand what he went through.
"A lot of people won't ever understand the situation that I'm in and see it the way I'm seeing the situation," he said.
Still, Peterson has spoken up about his son's death teaching him an important lesson.
"It's just made me stop taking things for granted," Peterson told ESPN last year. "Life is short. You never know. You just want to take advantage of the time you do have."