'Abandonment of our moral duty': Advocates slam Biden's inaction on Nagorno-Karabakh crisis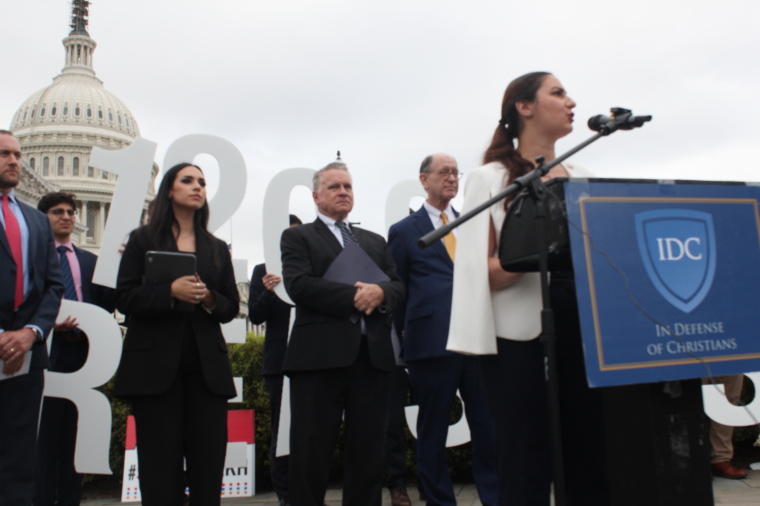 WASHINGTON — Human rights advocates and members of Congress demanded the Biden administration cut military aid and sanction Azerbaijan for what Armenian leaders have called the ethnic cleansing of 120,000 Armenians living in Nagorno-Karabakh.
On Friday, the nonprofit In Defense of Christians hosted a press conference alongside March for the Martyrs, the 120,000 Reasons coalition and Reps. Chris Smith, R-N.J., and Brad Sherman, D-Calif.,  to discuss international Christian persecution.
Speakers raised concerns Azerbaijan is possibly committing genocide against ethnic Armenians in Nagorno-Karabakh, a self-declared Armenian breakaway state recognized by Armenians as the Republic of Artsakh but internationally recognized as part of Azerbaijan. Until last week, the region had a predominantly Christian population.
But after Azerbaijan reclaimed control of the region via a 24-hour offensive last month, thousands of ethnic Armenians have fled to seek refuge in Armenia and elsewhere. Armenia's Prime Minister Nikol Pashinyan accused Azerbaijan of "ethnic cleansing" last week, warning that "in the coming days there will be no Armenians in Nagorno-Karabakh."
The offensive was predated by a monthslong blockade that began in December 2022. Azerbaijan sealed off the Lachin Corridor, which connects Armenia to Nagorno-Karabakh. The blockade of the Lachin Corridor deprived Armenians of food and other vital resources. 
Two weeks ago, Azerbaijan seized the Nagorno-Karabakh region. According to local officials, at least 200 ethnic Armenians, including 10 civilians, reportedly died.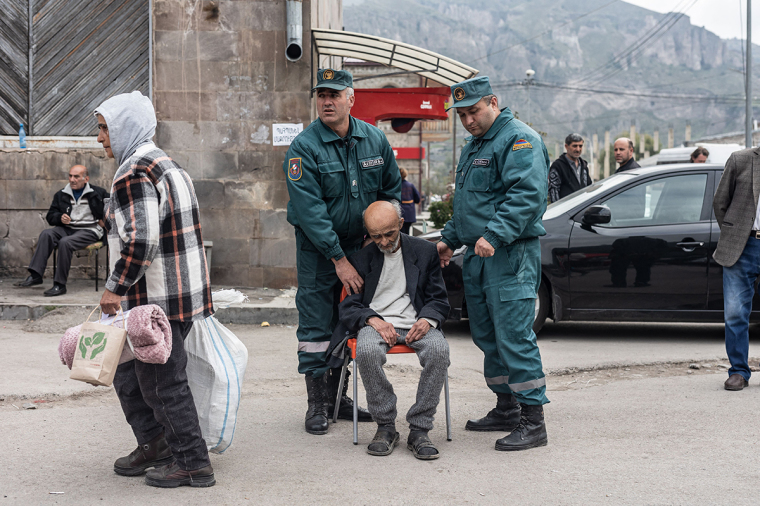 Christian residents were forced to flee their homes in a mass exodus. Some, however, are unable to leave Nagorno-Karabakh, which raises concerns about their welfare and whether they will be arrested or harmed.
Tereza Yerimyan, director of government affairs at the Armenian National Committee of America, condemned the Biden administration for failing to break Azerbaijan's blockade. 
She expressed disappointment at the United States' failure to live up to the proclamation, "Never again," stating that Azerbaijan's actions violate international law, including multiple sections of the Genocide Convention.
"We gather here today to hold our government accountable," she said. "To save all that can be saved and to rededicate ourselves to the proposition that this must never happen again — to those remaining on the ground in Artsakh, those living in fear today in Armenia, or any people anywhere around the world." 
Yerimyan criticized President Joe Biden's remarks before the United Nations General Assembly last month, where he rallied support for Ukraine.
During his speech, the president stated, "If we abandon the core principles of the United Nations to appease an aggressor, can any member state of this body feel confident that they will be protected?"
While Yerimyan acknowledged that there is "truth" in Biden's words, she contends that there has been "no action to follow them up." She asserted that the U.S. has not taken action against Azerbaijan President Ilham Heydar, who she believes is this generation's Saddam Hussein.
"A shameful abandonment of our moral duty," she said. "A dangerous signal to the authoritarians of this world. A green light for the next genocide."
In an interview with The Christian Post, Yerimyan called it a "failure" of U.S. policymakers to enforce Section 907 of the Freedom Support Act, which restricts assistance to the government of Azerbaijan to prevent conflict with neighboring Armenia.
"If you don't actually show that you're willing to take punitive measures against them, they're going to continue what they've done," she said, warning that Azerbaijan is taking an example right out of Turkey's "book." 
Between 1915 and 1923, an estimated 1.5 million Armenian Christians died after they were expelled from the Ottoman Empire, now known as Turkey. As Yerimyan noted, Turkey denied the existence of the Armenian Genocide, and it took over 100 years before the mass killing was finally acknowledged as a genocide by the U.S. government. 
"This is just a continuation of that," Yerimyan said. 
Smith, who also spoke at the event, warned that what is happening now is "the second Armenian Genocide." The congressman has chaired two hearings on the issue, one of which occurred in June, while the other hearing took place last month. 
On Sept. 22, Smith introduced House Bill 5686, or Preventing Ethnic Cleansing and Atrocities in Nagorno-Karabakh Act of 2023. The legislation would require the U.S. State Department to develop a plan to "promote long-term security" and "the well-being of ethnic Armenians in Nagorno-Karabakh" through security provisions.
The provisions include dispatching U.S. diplomats to the region to monitor the situation and report further abuse and the institution of a 24-hour video monitoring of Armenian cultural sites. In addition, the bill would authorize humanitarian assistance to Armenians impacted by the blockade and the recent attack on Nagorno-Karabakh and impose sanctions on the officials behind the attack and blockade. 
Under the legislation, the U.S. would provide military financing to Armenia and terminate its military aid to Azerbaijan by repealing the presidential waiver of Section 907 of the Freedom Support Act.
In an interview with CP, Smith called for building a "crescendo" around the issue, stressing the need for the Biden administration to take action, praising Yerimyan's speech. 
"That was powerful," he said. "You've got to call it out, whether it's Bush, Trump, or anyone on the Republican side, particularly on human rights abuses. Don't bite your tongue."
Gia Chacón, the founder of the March for the Martyrs, an organization that advocates on behalf of persecuted Christians worldwide, cited Open Doors' 2023 World Watch List during her speech. According to the report, more than 360 million Christians were persecuted for their faith last year. 
"We are witnessing an era where it has never been more dangerous to be a believer in Christ," she said, noting a "genocide underway" in Armenia. 
Chacón also highlighted Christian persecution in countries like Nigeria and Iraq.  
In an interview with CP, Chacón emphasized the responsibility of faith leaders in the U.S. to raise awareness about the situation in Nagorno-Karabakh and global Christian persecution. The advocate cited Hebrews 13:3, which calls Christians to remember fellow believers imprisoned for their faith. 
"And we also know because of Scripture that when a member of the Body of Christ suffers, we all suffer," she said. "So, we absolutely have an obligation not only to be speaking about these issues but to encourage our congregation and be coming together as a Body of Christ to pray for our brothers and sisters."