After Morsi, Violence Escalate Against Christians, Who Are Seen as Betrayers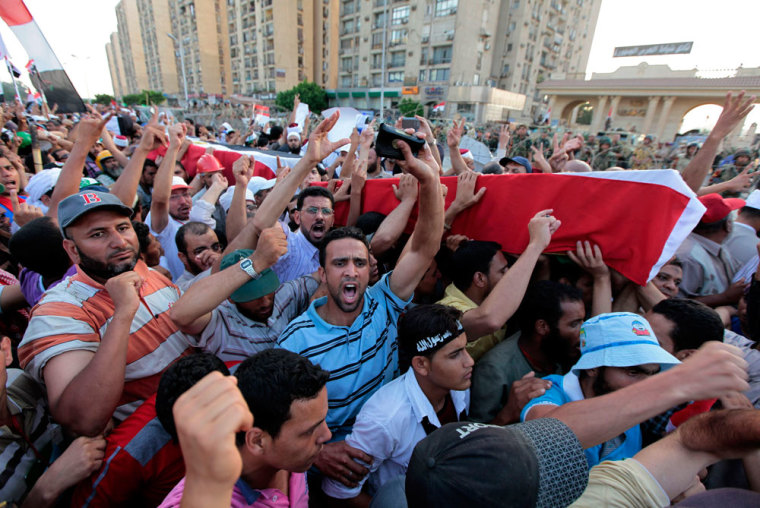 Christians in Egypt are suffering from intensified violence against them after the ousting of President Mohamed Morsi in what the BBC called "the largest political event in the history of the world."
Middle East and Islam expert Raymond Ibrahim believes that one big reason why Egyptian Christians are being targeted is because the Muslim Brotherhood's top leader, Muhammad Badie, has publicly blamed the Coptic Pope for supporting the military's decision to remove Morsi from power. The attacks on Christians is seen as revenge for the betrayal of Morsi, said Ibrahim, author of Crucified Again: Exposing Islam's New War on Christians.
"When Islamists did not rule, they attacked Copts for whatever reason," he noted to The Christian Post. Then when the Muslim Brotherhood came to power through Morsi, they used legal means, such as hiding behind blasphemy allegations, to attack Christians.
But "now that they are out of power again, they will resume their attacks on Christians – augmented with even more animus, as 'vengeance' for the ousting of the Brotherhood from power," said Ibrahim, whose parents are Egyptian.
Egyptian Pastor Majed El Shafie, founder of One Free World International and author of Freedom Fighter: One Man's Fight for One Free World, said to CP, "To have a true democracy in the Middle East, you have to have two things: separation between the religion and the state, and freedom of religion."
Morsi's government "imposed Sharia law on the people," and "ignored the financial crisis," he alleged. In response, "the biggest peaceful demonstration in human history" rose up against the Muslim Brotherhood regime.
Shafie, who converted to Christianity at 18 and was arrested and brutally tortured in 1998, even disputed the legitimacy of Morsi's election. "I have evidence," he argued, that officials forced "the people to vote for the Muslim Brotherhood," and that Christian villagers were not allowed to leave their homes on election day.
Nevertheless, Shafie emphasized a message of Christian hope. "We will not fight our enemy," he said. "We will fight hate by love, revenge by forgiveness, evil by the power of the Living God. They can kill the dreamer but not the dream."