After Pope Francis Blesses 'Jesus the Homeless' Artwork, Statue Is Stolen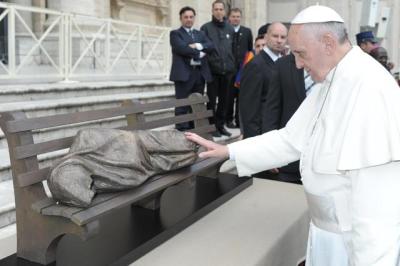 A statue created by an artist whose work was blessed last month by Pope Francis, has been stolen from outside a Toronto church.
Maggie Helwig, who pastors the church where the statue, "Whatsoever You Do," was stolen, speculated that the burglary was prompted by individuals looking to make a quick profit.
"Somebody looked at it and thought 'I could get a pile of cash for that,'" Helwig told The Star.
Helwig said she was saddened by the loss of a piece of artwork depicting a Christ she felt spoke to the needs of the community in the area.
"The biggest concern for me is that we have lots of homeless and marginalized people around this church, and this was the first depiction of Jesus they could relate to," Helwig said. "It's not so much a theft from the church as a theft from the community."
"It's very sad that someone would do this. The community and especially the marginalized people in this community responded powerfully to this statue," she added.
A resin version of the statue was being kept outside church under it raised funds for a bronze version.
Canadian artist Tim Schmalz, who created the stolen sculpture, was recently in the Vatican City with another sculpture, "Jesus the Homeless," where it was blessed by Pope Francis on Nov. 20.
"To have Pope Francis bless your sculpture is one of the most amazing experiences possible," he told CTV Kitchener.
The most recent project took Schmalz eight months to complete and was inspired by an encounter with a homeless person.
"[The piece] is a visual translation of what I think is one of the most important things in the gospels … that when we see the most marginalized people, we should think of Jesus," the artist said.
"If they see that visual representation, they might be a little more gentle and introspective when they think of the marginalized people," he added.