AI rendition of Shroud of Turin depicts long-haired, goateed face of Jesus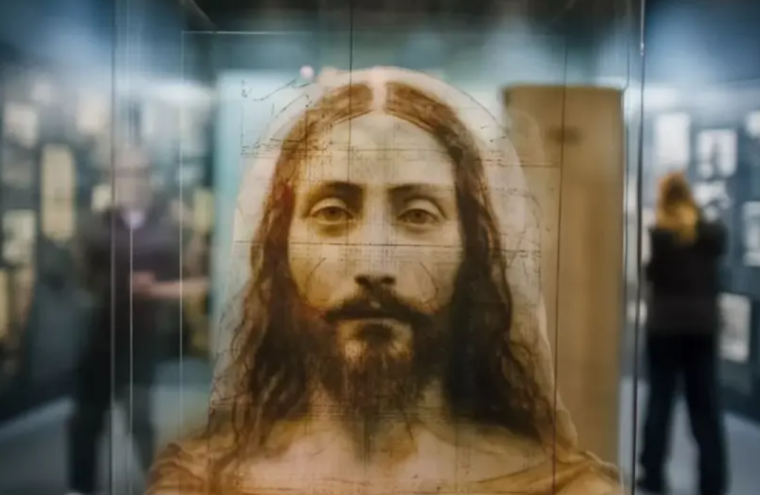 From writing sermons to creating a "rapping Jesus," the advent of the era of artificial intelligence (AI) is clearly upon us. But what happens when AI meets an artifact that purportedly captures the face of Jesus?
The Shroud of Turin, a relic made public in the 14th century that some claim to be the burial cloth used cloth in the now-empty tomb of Jesus of Nazareth, has inspired a new AI-generated rendition of the face of the Son of God.
The image generated on the AI website Midjourney depicts a middle-aged man with light skin, long, dark, wavy hair parted down the middle and full facial hair, including a goatee. In the image, the man's eyes are open and a portion of his bare neck and upper chest are visible.
While mainstream AI technology is still relatively new, it's not the first time the shroud's image has been reinterpreted for a new generation.
In 2018, an Italian professor created a 3D image of Jesus based on the artifact, claiming that it's the "precise image of what Jesus looked like on this Earth."
Italian forensics investigators have used the Shroud of Turin to produce an image of how Jesus might have looked like as a child. In 2015, police generated a photo-fit image from the negative facial image imprinted on the famous shroud. 
They then used a reversed aging process, which included reducing the size of the jaw, raising the chin, and other techniques to produce the image of the young Jesus. Photos released online show the step-by-step reversed aging process used.
Unsurprisingly, the shroud has also been exploited for personal gain, such as when a 71-year-old Australian preacher claimed to be the reincarnation of Jesus Christ by comparing his image to the face imprinted in the famous artifact.
Since its emergence around 1360 at the Diocese of Troyes in France, the Shroud of Turin has been a magnet of controversy, hailed by Pope Pius XII as a legitimate object of devotion for Catholics and even finding a home in the Museum of the Bible. 
Measuring roughly 14.5 by 3.5 feet in size, the shroud has been housed in Turin in northern Italy since the late 16th century, except during the World War II era when it was deliberately hidden away from Hitler in the Territorial Abbey of Montevergine in southern Italy.
In 1988, radiocarbon measurements suggested that the shroud was a forgery made somewhere between 1260–1390 A.D. But later research found that the fibers tested at the time were from a patch added later on the shroud, and not part of the original cloth.
DNA sequencing tests in 2015 found pollen and dust particles from the shroud belonging to plants from South America, the Middle East, Central Africa, Central Asia, China and other regions.