Air Force Academy Affirms Players' Right to Pray on Field on Game Day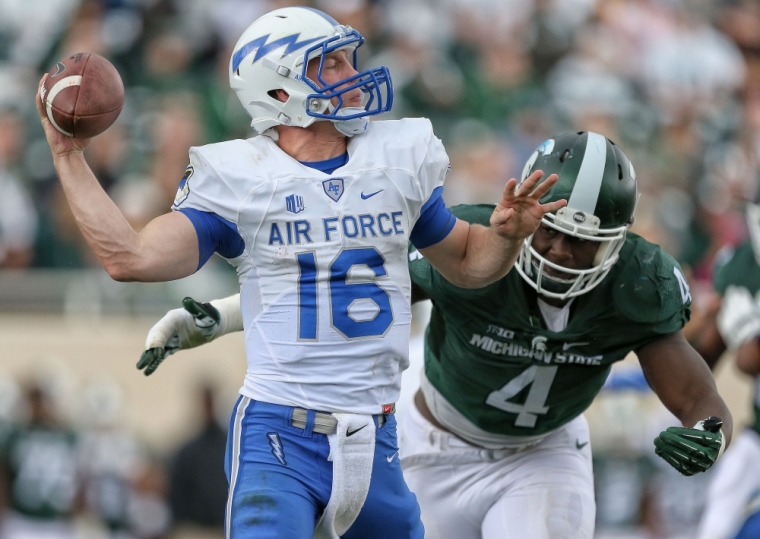 The United States Air Force Academy has defied an atheist group's demand and ruled that members of its football team are constitutionally allowed to gather on the field to pray before the start of games.
After several Falcons players were seen before the start of Air Force's Dec. 5, 2015, game against the San Diego State Aztecs kneeling in prayer on the field, the Military Religious Freedom Foundation threatened the institution with a lawsuit if the school did not take steps to prohibit players from praying before games.
After MRFF filed its complaint, the academy launched an inquiry into the prayer practices of its football team.
Although MRFF and several active duty and retired Air Force officers voiced concerns that pre-game prayers would pressure non-Christian players to lineup and join in the prayer and also violate their religious freedoms, the academy disagreed with the foundation's interpretation of the First Amendment.
In a statement issued prior to the Falcons' final game of the 2015 season against California, the academy affirmed the cadets' right to pray on the field.
"The United States Air Force Academy places a high value on the rights of its members to observe the tenets of their respective religion or to observe no religion at all," the Air Force Academy response to MRFF's complaint states. "Recently, the United States Air Force Academy received a complaint about its football players kneeling in prayer. An inquiry was initiated, which found the football players' actions to be consistent with Air Force Instruction 1-1 and its guidance on the free exercise of religion and religious accommodation."
"The United States Air Force Academy will continue to reaffirm to cadets that all Airmen are free to practice the religion of their choice or subscribe to no religious belief at all," the statement continued. "The players may confidently practice their own beliefs without pressure to participate in the practices of others."
Considering that the academy made it clear it has no plans to ban its players from praying on the field, MRFF is fully considering taking legal action, a statement from the organization indicates.
"This outrageous internal administrative decision to allow its football team to engage in massive orchestrated sectarian Christian prayers right before kick off for the world to see on television is a monstrous travesty and brutal breach of federal constitutional law and Department of Defense/Air Force regulations," the MRFF statement reads, in part.
Following the academy's announcement, MRFF also released a cartoon depicting over 20 Air Force football players kneeling and praying on Muslim prayer rugs before a game. The caption to the cartoon reads, "The USAFA double standard: Would Air Force's religious endorsement be accepted if it were non-Christian?"