Alabama Pastor Whose Wife Was Found Brutally Murdered Is Arrested at Airport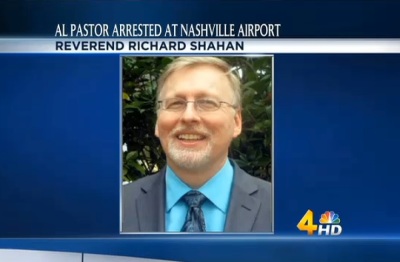 An Alabama pastor whose wife was found brutally murdered in July was arrested at the Nashville International Airport trying to leave the country on Wednesday.
Richard Shahan, 53, who, according to WSMV was scheduled to leave for a three year commitment with Bible Mission International, was arrested by Homeland Security on Jan. 1 while en route to boarding a flight to Germany.
The former pastor is currently being held without bond for being a "fugitive from justice."
Shahan was employed as the children and families pastor and facilities director at First Baptist Church of Birmingham, when his wife, Karen, was reportedly stabbed to dead in the couple's home on July 23, 2013.
On Aug. 8, Shahan was jailed for "investigative purposes," but authorities ultimately released him without charging him with a crime. Two days later, the church announced that he would be going on paid administrative leave  to "focus on his family" and "heal." He was taken off paid leave several weeks ago.
Prior to his arrest, authorities had maintained that Shahan was visiting one of the couple's two sons on the day that the body was found.
In the aftermath of the murder, interim pastor Charles Carter comforted the congregation, telling them it was okay for them to wrestle with why the event had occurred.
"During the past several days, our church has gone through a senseless tragedy. We've been traumatized by this; you have, I have, everyone who knows this church has been traumatized by this," Carter told the congregation. "...Who did this terrible murder? Why did they do this? Why the unexpected developments in the aftermath of this? Why the notoriety that has developed as a consequence of this? These are logical questions."
"Asking questions is not a lack of faith," he added.
A spokesperson for First Baptist Church of Birmingham told The Christian Post that, although the church will likely issue a statement in the next several weeks, he was unable to comment on the case.