Ala. White Evangelicals Overwhelmingly Support Moore Despite Sexual Assault Allegations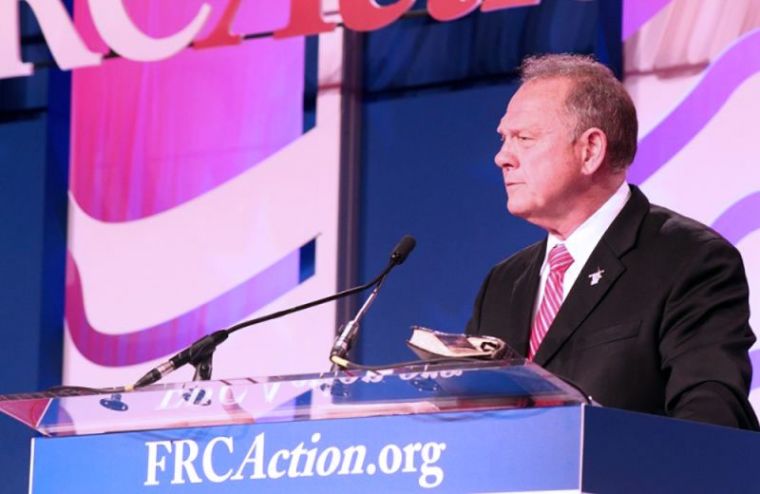 Less than two weeks before the special election for Alabama's Senate seat, a poll has found that a great majority of self-identified white evangelicals continue to support the Republican candidate, Roy Moore, despite numerous allegations of sexual misconduct against him, leading to a neck-and-neck race with his Democratic rival, Doug Jones.
A Washington Post-Schar School poll, released Saturday, shows that Jones has a slight edge over Moore. Asked who they would vote for "if the election were being held today," 50 percent of likely voters said Jones, and 47 percent said Moore — a margin of a scant three points while a margin of nearly 9 points is needed to be statically significant.
Jones has the backing of 33 percent of white voters in the state, compared with 63 percent for Moore. Among white evangelical Protestants, 78 percent support Moore, and and only 19 percent back Jones.
Alabama will hold the election on Dec. 12 to fill the Senate seat vacated by Attorney General Jeff Sessions.
Last month, a woman named Leigh Corfman accused Moore of initiating sexual encounters with her when she was 14. Later, several other women made similar accusations. Moore has denied the allegations.
The allegations against Moore "hang heavily over a race that would favor a Republican under ordinary circumstances in this deeply conservative state," the poll notes, showing that 53 percent of voters say Jones has higher standards of personal moral conduct than Moore. Only about a "third of likely voters say Moore, who has cast his campaign as a 'spiritual battle' with heavy religious overtones, has higher moral standards," The Washington Post adds.
The survey also shows that the electorate in the state is divided on the validity of the accusations against Moore. While 35 percent of likely voters think Moore did make unwanted advances toward teenage girls, 37 percent say they are unsure or have no opinion. And 28 percent of likely voters says Moore did not make the advances that were alleged. Among white evangelicals, only 16 percent believe Moore made unwanted advances, while 44 percent said he did not and 39 percent are unsure.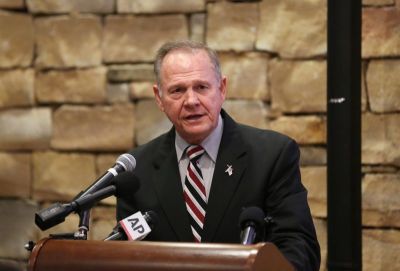 When asked if officials who commit immoral acts in private can still behave ethically in public life, 44 percent of likely Alabama voters said they can. Slightly more, 49 percent, of white evangelicals said the same. 
Three women alleged Moore attempted to date them when they were between the ages of 16 and 18 and he was in his early 30s, though they clarified that he did not force them into any sort of sexual contact. However, an Alabama resident, Beverly Young Nelson, alleged that Moore groped her and tried to force her to perform oral sex when she was just 16.
Many GOP senators and some Christian leaders have called on Moore to drop out.
A Republican LGBT advocacy group, Log Cabin Republicans, has come out with an ad opposing Moore, calling on "good Christians" to reject him, according to The Hill. "It's a time for choosing. We can't stand on the sidelines anymore," the ad's narrator says. "It's time for good Christians to do what good Christians do. Reject Roy Moore."
Speaking on CBS News' "Face the Nation" last month, National Review senior writer David French said it would be good for the Republican Party if Moore loses. "It's clearly better if Roy Moore loses," French told CBS News host John Dickerson. "I mean, for a couple of reasons … it would be very important party hygiene."
Both Bannon and Moore need to lose, French added. "And those who are connected right now … What … many people are forgetting is the blow that this would be not just to the Roy Moore side of the GOP, which needs to lose, but also to the Steve Bannon enterprise of trying to destroy the GOP as we know it. He needs to be discredited. And if he helps lose a Senate seat in one of the brightest, reddest states in the nation, why would anyone listen to Steve Bannon ever again? And so that's, I think, an incredibly important potential moment of party hygiene. But we don't know if that's going to happen yet."