'America Has No Functioning Democracy,' Says Former Pres. Jimmy Carter
Former U.S. President Jimmy Carter thinks Edward Snowden's NSA leak was a good thing for America and believes the organization's intelligence gathering methods are undemocratic.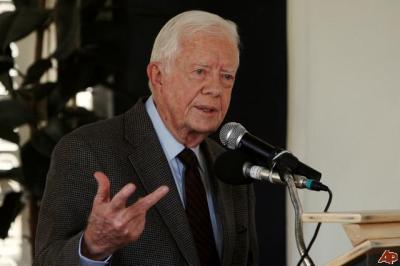 A recent report taken from Der Spiegel, noted that Carter called Snowden's actions "beneficial" for America. When the issue of the top-secret NSA surveillance program was brought up at the Atlantic Bridge meeting on Tuesday in Atlanta, Ga., he declared that America's democracy is broken.
"America has no functioning democracy at this moment," said Carter, who was president of the United States from 1977 to 1981.
Not only has the NSA scandal undermined America's democracy, but democracy has been undermined in other parts of the world and people are becoming more suspicious of internet platforms like Google and Facebook, Carter said.
"While such mediums have normally been associated with freedom of speech and have recently become a major driving force behind emerging democratic movements, fallout from the NSA spying scandal has dented their credibility," noted the report.
Carter's criticisms of U.S. intelligence policies are not new.
In an earlier interview with CNN, he noted that the NSA leaks were a warning that "the invasion of human rights and American privacy has gone too far."
Although Snowden violated U.S. law, he explained, the whistleblower may have ultimately done good for America.
"I think that the secrecy that has been surrounding this invasion of privacy has been excessive, so I think that the bringing of it to the public notice has probably been, in the long term, beneficial," said Carter, who won the Nobel Peace Prize in 2002, in the report.
On Friday, German Chancellor Angela Merkel, noted in a Der Spiegel report that her government was applying "appropriate pressure" on the Obama administration regarding the extent of the NSA's surveillance activity in Germany.
Her administration is currently conducting an inquiry into a report that the NSA had been spying on the European Union and monitoring up to a half-billion German communications connections each month.
She explained that a list of questions regarding those activities was sent to the Obama administration and that inquiry process is still ongoing.
"We are applying the appropriate pressure," said Merkel. "We have made clear that answering the catalogue of questions is important to us."
"The end does not justify the means," she said. "Germany is not a surveillance state."