American Airstrikes Kill Three Top ISIS Leaders in Iraq; Officials Claim Operations Having 'Significant Impact'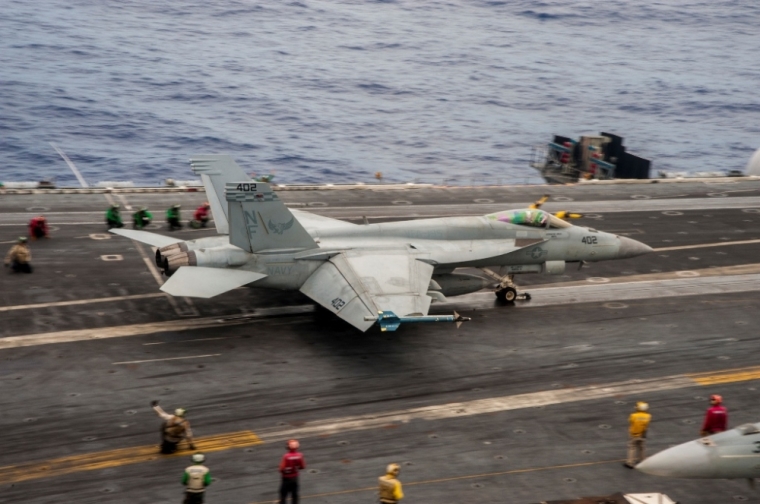 The Pentagon revealed on Thursday that three top ISIS leaders in Iraq have been killed in recent weeks, and argued that the American-led operation against the terror group is having a "significant impact."
Gen. Martin Dempsey, chairman of the Joint Chiefs of Staff, told The Wall Street Journal:
"It is disruptive to their planning and command and control. These are high-value targets, senior leadership."
Pentagon Press Secretary Rear Adm. John Kirby identified one of the slain ISIS members as Haji Mutazz, a deputy to ISIS leader Abu Bakr al-Baghdadi.
"We believe that the loss of these key leaders degrades ISIL's ability to command and control current operations against Iraqi Security Forces (ISF), including Kurdish and other local forces in Iraq," Kirby said, according to Fox News.
"While we do not discuss the intelligence and targeting details of our operations, it is important to note that leadership, command and control nodes, facilities, and equipment are always part of our targeting calculus."
Another slain ISIS leader was identified as Abd al Basit, the head of the terror group's military operations in Iraq, who was killed sometime between Dec. 3 and Dec. 9.
While ISIS has captured a number of cities across Iraq and Syria, American defense officials have claimed that the killing of the senior leaders is weakening the group's structure and leadership.
The claims directly contradict various statements made by ISIS leaders, as well as Syrian President Bashar Al Assad, who have said that ISIS is still standing strong despite the airstrikes.
"It isn't true that the strikes are helpful. They would of course have helped had they been serious and efficient. We are running the ground battles against Daesh (Arabic pronunciation of ISIS), and we have noticed no change, especially with Turkey providing direct support to these regions," Assad told French magazine Paris Match earlier in December.
ISIS leader al-Baghdadi has also claimed that the U.S. is failing to meet its objective to slow down the advancement of his group.
"The Crusaders' air strikes and constant bombardment day and night of Islamic State positions have not prevented its advance," al-Baghdadi said.
American military analysts have warned that the Islamic State, as the terror group is also known, is able to replace military commanders with ease. It is also unclear precisely how many soldiers ISIS has under its command, particularly with regular news of foreign soldiers coming to Iraq and Syria to join its ranks.
The U.S. has been supporting the Iraqi central government in its battle against ISIS, though it has chosen to back moderate rebel groups in Syria instead of the Assad regime.
Gen. Dempsey insisted that the U.S. and its allies do not view ISIS as a nation-state, which is how the group wants to be portrayed, but as a network of militants.
"It is in the context of how to fight a network," the Joint Chiefs of Staff chairman added. "It is not a country. They have claimed it, but they are not. They are a network, so they have finances, they have logistics and they have leaders."
Lt. Gen. James Terry, the commander of the U.S. mission in Iraq and Syria, said at a separate news conference on Thursday that the U.S. has so far conducted 1,361 airstrikes since operations began this summer, with many focused on initiatives in Iraq.
"Combined efforts like these are having a significant effect on Daesh's ability to command and control, to resupply and to conduct maneuvering," Gen. Terry said. "We will continue to be persistent in this regard and we will strike Daesh at every possible opportunity."