Only 14 Percent of American Catholics Have Favorable Views of Muslims, Survey Finds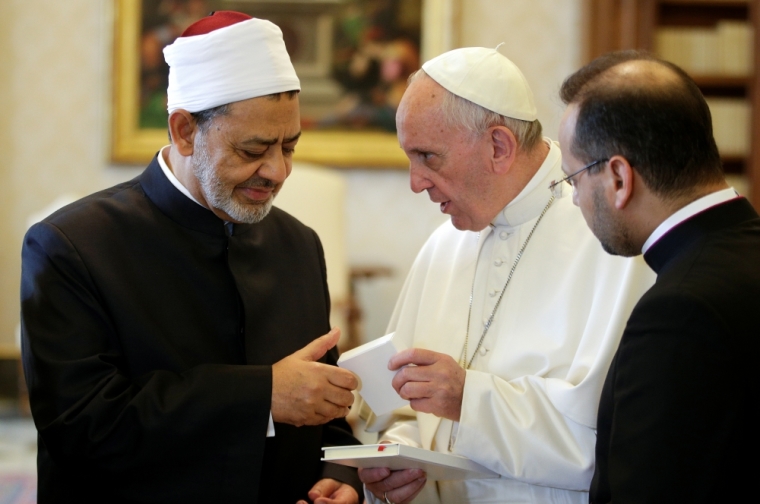 A survey by a Georgetown University research project on the topic of Islamophobia has found that American Catholics have mixed views about Muslims, while nearly half don't find any similarities between Islam and Christianity.
The report, titled "Danger & Dialogue: American Catholic Public Opinion and Portrayals of Islam," headed by the Bridge Initiative, surveyed some 1,027 Catholics, and found that three in 10 of the respondents admitted to having unfavorable overall impressions of Muslims.
Only 14 percent of Catholics in the poll said they have favorable views of Muslims, while 45 percent had "neither favorable nor unfavorable" opinions.
What is more, nearly half of Catholics said they can't name any similarities between Catholicism and Islam, or specifically said that there are no commonalities.
There have been controversies in the U.S. over arguments that Christians and Muslims worship the same God, and the top American Catholic Cardinal Raymond Burke, the former head of the highest court at the Vatican, said in August that the two faiths worship different Gods.
Burke, who serves as archbishop and the patron of the Sovereign Military Order of Malta, argued that while Christians seek to follow the way of Jesus, the God of Islam seeks to govern countries and people's lives.
"I hear people saying to me, 'Well, we're all worshiping the same God, we all believe in love.' But I say stop a minute and let's examine carefully what Islam is, and what our Christian faith teaches us both," he said at the time, and positioned that for Christians, Christ's law is written "on our hearts," while for Muslims, God serves as a governor of people's lives.
The Bridge Initiative also found in its survey that Catholics who know a Muslim personally often have very different views about the faith and interfaith dialog from those who haven't interacted with a Muslim at all.
When it comes to Catholic media outlets' portrayal of Islam online, the research indicated that half of the time when the word "Islamic" is used, it is in reference to the Islamic State terrorist group. Statements by Pope Francis in articles mentioning Islam also played a large role, as outlets that had negative sentiments about Islam mentioned the pontiff the least, while those with positive sentiments mentioned the pope the most.
Francis has insisted that people of all religions are "children of the same God," and in March washed and kissed the feet of Muslim refugees in preparation for Easter.
"All of us together: Muslims, Hindus, Catholics, Copts, Evangelicals ... all brothers and children of the same God," the pontiff said before the foot washing ceremony at the time. "We want to live together in peace."