'American Idol' Hopeful Repeatedly Thanks Jesus After Being Voted to Top 7 (Video)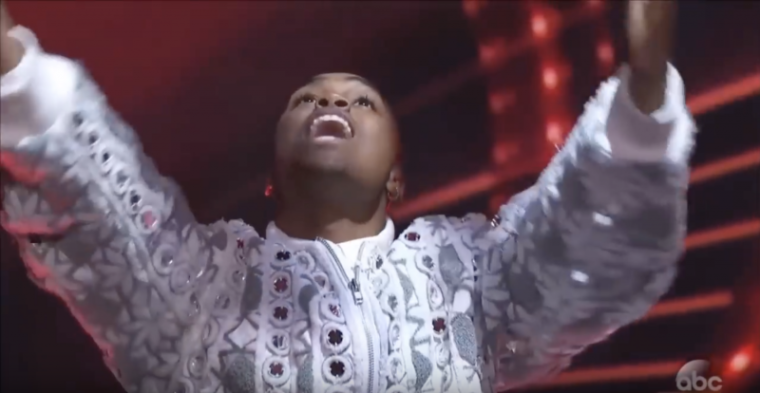 "American Idol" viewers voted for the top seven contestants on season 16 this week and upon finding out that he made it through, singer Michael J. Woodard turned his eyes to Heaven and repeatedly thanked Jesus during the live TV program.
On Sunday's episode, the 10 finalists of the singing competition sang songs selected from Disney animated classics. Woodard chose the Oscar-winning number "Beauty and the Beast" from the film of the same name for his showcase.
At the end of the program, Woodard was the third person to be named among the top seven finalists on "Idol." This episode was ABC's first time to take votes during the live program, which made all the contestants nervous before hearing the results. After being called, Woodard immediately looked up and thanked God as judge Katy Perry was seen cheering him on.
"Thank you, God, thank you Jesus, thank you Jesus," he repeated over and over.
"I love you and thank you for sticking with me throughout this whole thing. Guys, I don't know what is happening but all I can say is, thank you Jesus," the 20 year old celebrated on social media after making it one step closer to winning "American Idol."
Upon making the top 10, he again pointed his supporters to Jesus, "To God be the glory. All glory goes to the King of kings," he wrote on Instagram.
The Philadelphia native grew up in a Christian household and as seen on the show he credits his grandmother for raising him singing strictly gospel music. Woodard's mother, Wanda Martin Woodard, reportedly hosts her own weekly 30-minute Facebook live/radio show called "H.O.P.E. Victorious."
Woodard is not the only believer in the competition. In a recent interview with The Christian Post, contestant Cade Foehner said he hopes to share his faith also by bringing rock 'n' roll to the singing competition.
"I found myself interested in biblical theology and that's actually my major in college, biblical theology. In doing rock 'n' roll music, the whole purpose of any kind of music [for me] is to evangelize and to tell people about the Lord," he told CP. "So I just want to know as much as I can about what we believe."