American Idol XIV Finalist Tyanna Jones Details Finding Her Own Relationship With God, Struggles With Anxiety (Exclusive)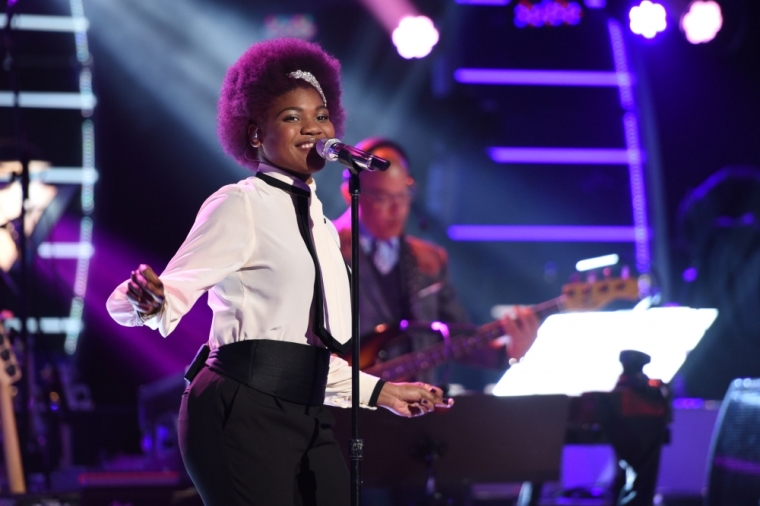 She had her doubts about surviving the competition created to find the best voices in the country, but at just 16, Tyanna Jones is officially leaving the "American Idol" competition with a renewed sense of faith.
Jones was handpicked out of thousands of hopefuls to sing her way to the top five contestants in the competition. Still, there can only be one winner of "American Idol XIV" and the Jacksonville, Florida, native knew that at any point she could be the next one to go.
One day before learning she was eliminated from the competition, Jones spoke to The Christian Post about her faith helping her get through the competition.
"There [are] times when I really don't know what's going on. I never [know] when I'm going to make it through," Jones told The Christian Post. "Sometimes you're more sure of yourself than other times but I would hate my performance so much that I would be like 'I'm going home.' Then I'd just pray and ask God to deal with me and help me and reveal to me and a comfort would come upon me and I would remember how blessed I already am."
The 16-year-old honed both her faith and voice in the same place, church. At just six years old, she asked her mother if she could sing in front of their church since the matriarch was supposed to do so, but was not feeling well.
"I think it's kind of like the typical started singing at a young age at a choir in church and from then on I kind of realized that's what I wanted to do for the rest of my life," Jones said.
Even though the budding singer was raised in and around the church, there comes a time when people have to get to know God for themselves aside from what they are conditioned to believe. Jones recalls a time when she really began an intimate relationship with God, after struggling with some anxiety.
"I think what really showed me [God] was personal reasons that I had struggled with like anxiety and being paranoid about things, suffering with things that I shouldn't be suffering with. Things that people my age shouldn't be worried about, I was struggling with," Jones admitted. "And one day I just got on my knees and prayed and like really, really, really, prayed and asked for forgiveness for the things that I had done that I know I should not have done. Just really crying out to God and asking Him for forgiveness, that's when it really became really reassuring to me that there is a God who wants to help me."
The high school student doesn't believe her age played much of a factor during her time on "American Idol XIV." However, she does recognize that there were differences between she and her competition.
"The only thing that set me apart from other contestants is I go to school. Some other contestants were going to school but they stopped because of this competition," Jones told CP. "The only thing I would say [set me apart] is my lack of experience going into this competition. I didn't sing at the little restaurants and the little cafes on the side of the road or anything and I didn't play any instruments but I don't think that has anything to do with the competition."
Despite what she may consider a lack of experience, Jones has received a great deal of support from her hometown. Her Westside High School in Jacksonville, Florida, is recognizing her accomplishments by honoring the singer with an event called "Tyanna Jones Day" that will include a pep rally, according to The Florida Times-Union reports.
Gregory Bostic, principal at Westside High, spoke about plans that his school had to honor their budding singer.
"We will keep the signs up in the halls for the rest of the year because Tyanna will always be our American Idol," Bostic told The Florida Times-Union.
While Jones will return to Jacksonville a different teenager than when she left, she is happy to return to her family.
"I think what [was] most challenging for me [was] being apart from my family. I think that's the main thing that actually when I sit down and think about it, I just really, really, really miss them," Jones told CP. "Missing my family, going to church with my church family and being around them ... I missed that a lot."
Although her time on the singing competition has ended, Jones making it to the top five has still qualified her to embark on the nationwide American Idol Live Tour which will give her the opportunity to perform for fans this summer. With a great deal of support and God on her side, Jones is looking forward to the path that her singing career will lead her on.
"I see myself beyond what I'm doing right now. People will say 'you're such a star you've come so far,'" Jones told CP. "And it's true but I'm not close to being what God has in store for me. So I'm just patiently waiting."