'American Sniper' Widow Shares Fondest Memory of War Hero Chris Kyle; 'Our First Kiss Was Soft, Sweet, Simple'
'American Sniper' Widow Shares Fondest Memory of War Hero Chris Kyle; 'Our First Kiss Was Soft, Sweet, Simple'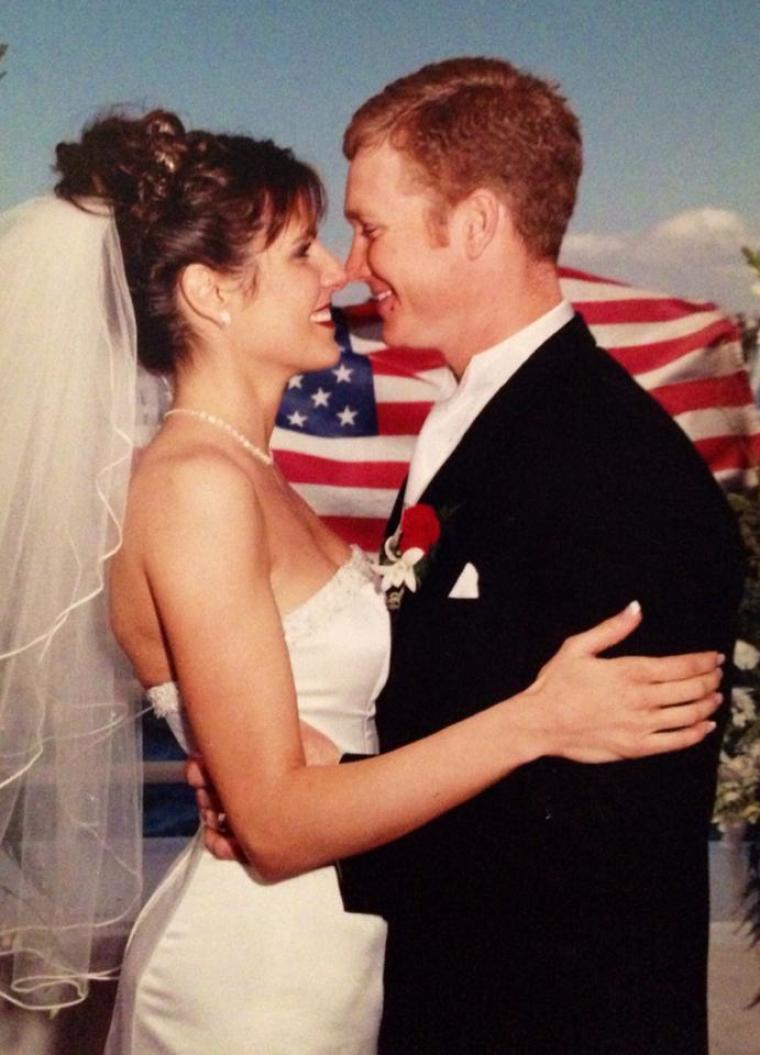 "American Sniper" widow Taya Kyle shared her fondest memory of her late husband Chris, the former Navy SEAL who inspired Clint Eastwood's latest blockbuster film.
The tragic love story of Taya and Chris and their journey through fate and the perils of the Iraq war is unraveled in Eastwood's Academy Award-nominated film, which is based on Chris' 2012 best-selling autobiography of the same name.
In 2013 the father of two, widely considered to be the most lethal sniper in U.S. military history for having 160 confirmed kills, was fatally shot at point-blank range by a former Marine he was trying to help overcome PTSD at a North Texas shooting range. Taya, 40, recently shared her favorite memory of her late husband while praising the film.
"One of my favorite memories is the first time we kissed [when] we went on a date," Taya recalled to People.com. "He was about to leave and I knew he was going to jump school [The United States Army Airborne School] and I was driving back to Long Beach."
The Oregon native, who opens up about life after the death of her husband in her forthcoming memoir American Wife: A Memoir of Love, Service, Faith, and Renewal, was instantly captivated by the war hero after their first date back in 2001 so she decided to seize the moment. It would appear that Chris was equally as smitten by the woman who would become his wife one year after they first met.
"I kind of stood in front of him and I thought 'I don't think he's going to kiss me' but he also had this presence that you knew he would be open," she said. "So I just stood on my tiptoes and gave him a kiss and it was just really soft, sweet, simple. I pulled my face back and looked and he still kind of had his eyes closed … and then he opened his eyes and just smiled at me and gave me a hug and that was it."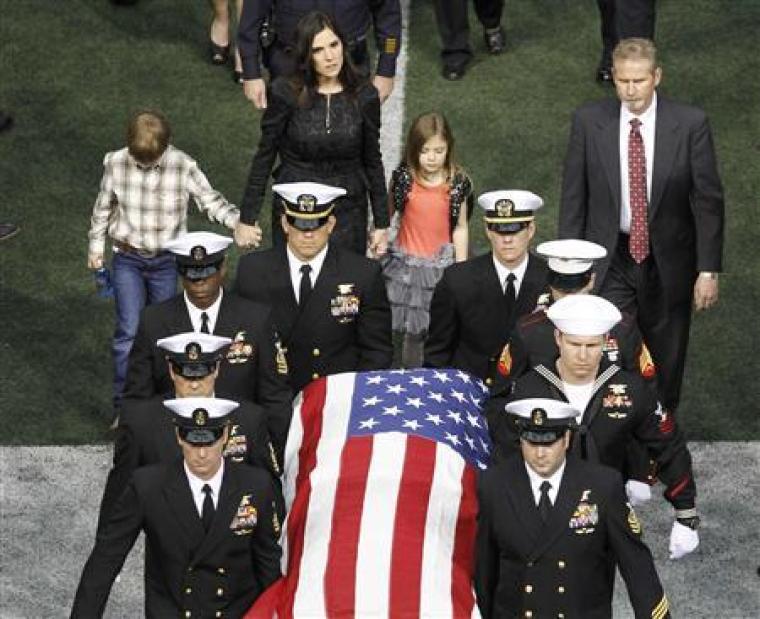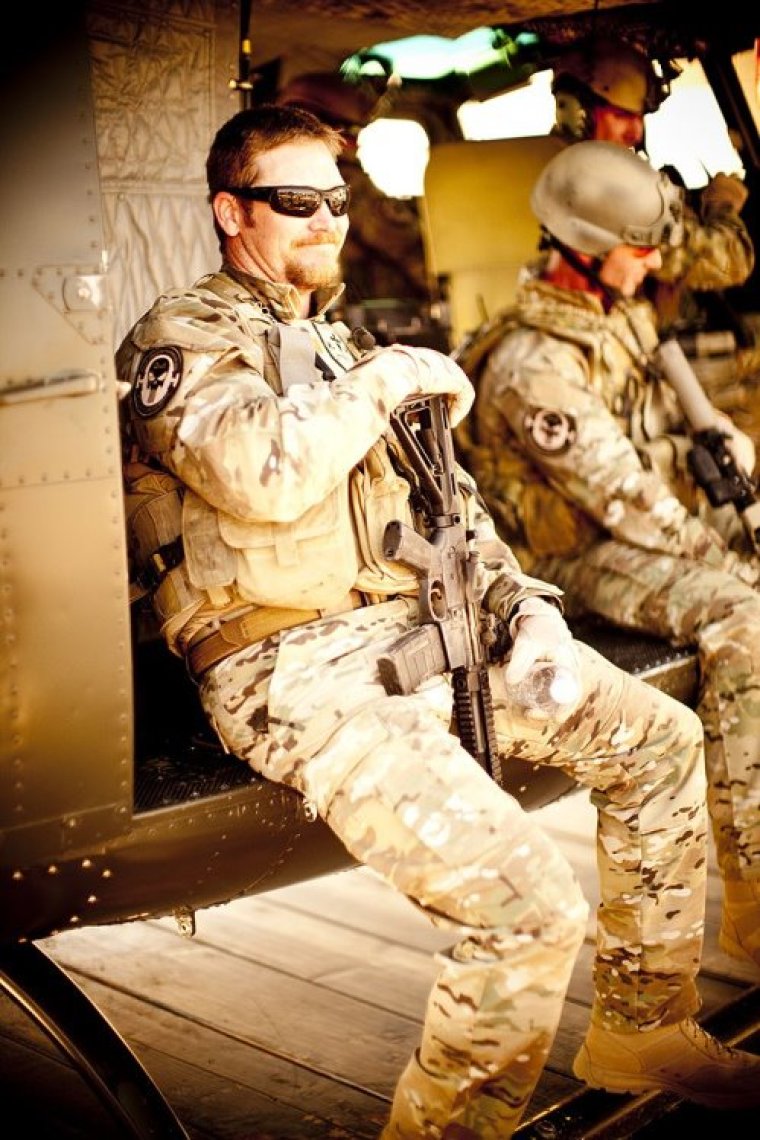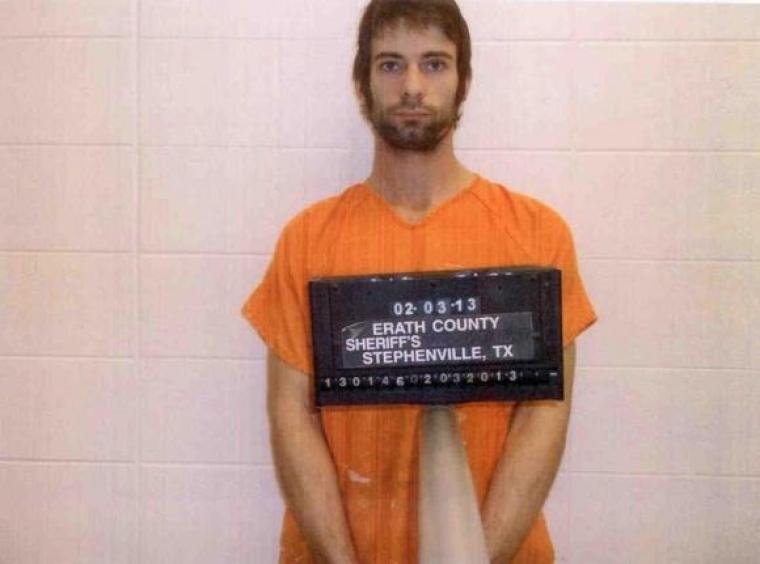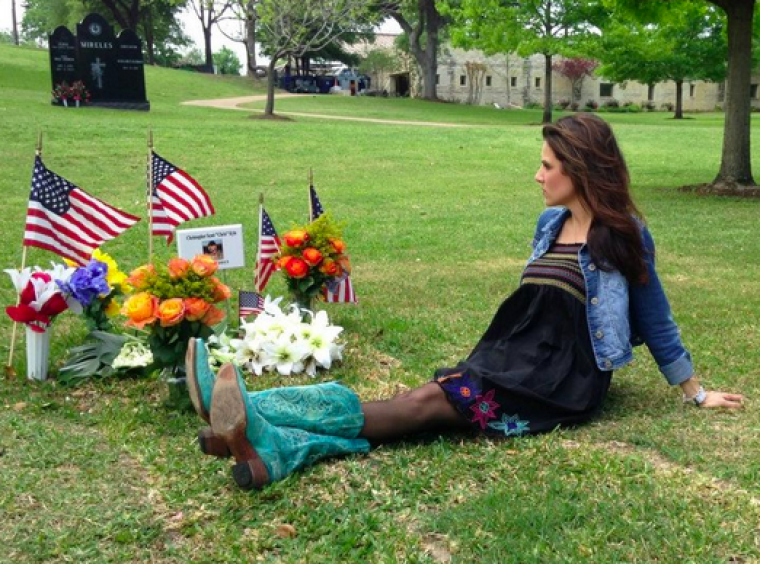 View Photos
Chris, who was 38 when he was killed by Marine Corps veteran Eddie Ray Routh, served four tours in Iraq before he left the military in 2009 to focus on his family. He later became an advocate for veterans' mental health and he shared two children with Taya.
"I miss those family dinners where we would joke with the kids," she shared. "I miss the way he laughed at the littlest things with me and the way the kids and I couldn't wait for him to come home from work. I miss how Chris changed the feeling in the room when he was in it."
She recently recalled the heartbreaking moment she and her two children learned that her late husband had been killed. Taya learned about his death before the kids and later sat on their front lawn with each of them on one knee to break the news.
"The tears just poured out. We just sat out there in the grass for a while and I just held them," Taya recalled, adding that the children "just asked all the questions I think we all have: 'Why did this happen? Who did it and why? Why can't they fix Daddy's heart?' I try not to be angry too much, but the kids are the ones that got cheated the most."
Taya is now an advocate for women and families who have lost loved ones serving in the war.
Eastwood's film recently scored a total of six Academy Award nominations and set a box office record by pulling in $105 million during its opening weekend.
"I think the movie is resonating and bringing people together," said Taya. "Chris would just be in awe of it really ... I've thought about it a lot of times and it makes me really emotional when I think about how he would react because I feel like he should be here and I want him here and I can imagine how it would be and at the same time I can also see him being almost uncomfortable in some ways with the attention."
Of the film's success she said, "I can't think of a better blessing. When I actually think about what it would be like to have Chris next to me, with my hand in his, it hurts. But he's still with me. I will love him until the day I die."
Routh's trial is scheduled to begin next month pending jury selection and his attorney said recently that he will plead "not guilty."
"My client will plead not guilty by reason of insanity," Routh's attorney, J. Warren St. John, told People magazine in a report last week. He was also quoted by Reuters as saying, "Our guy is not evil."