Americans Rank Billy Graham Among World's 'Most Admired' Men for 58th Time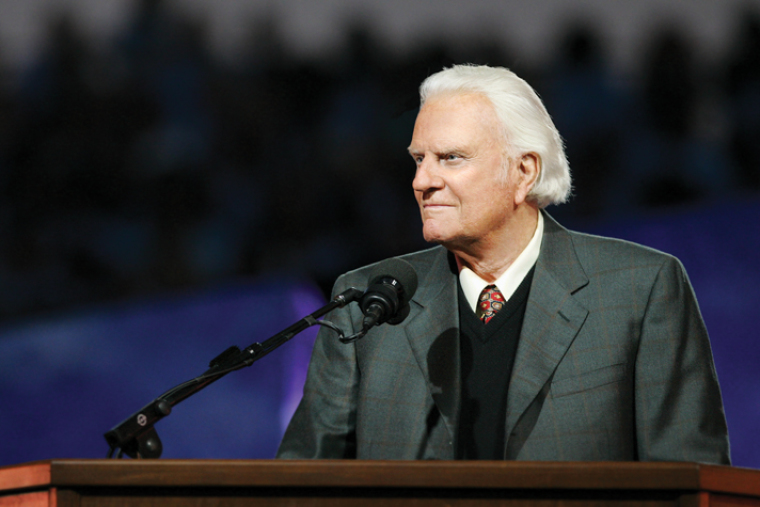 Americans named Billy Graham the number four "Most Admired Man" in world of 2014 according to U.S. polling agency Gallup. The polling results mark the 58th time that the 96-year-old televangelist has made the top 10 list.
The pollster's telephone survey results from 805 U.S. adults ages 18 and older placed Graham, referred to as "America's pastor," in the top 10 list of most admired men in the world for 2014.
Two percent of poll participants named him as their first or second choice when asked "What man that you have heard or read about, living today in any part of the world do you admire most."
3 photos
(Photo: Screen grab/ Gallup)
Graham has made news most recently for his connection to past Olympian and prisoner of war Louis Zamperini – the subject of Actress Angelina Jolie's latest film Unbroken.
After the World War II veteran escaped a Japanese labor camp, Zamperini attended one of Graham's crusades and became a Christian. He then went on to meet and forgive his war-time captors. Jolie's film omitted this detail of Zamperini's life. However the Billy Graham Evangelistic Association has featured it in its documentary Captured by Grace.
The film was released for free online on Christmas day.
The North Carolina preacher has had the most appearances on the "Most Admired" list of any other person living or dead. He has ranked in the top 10 list every year since 1963 with the exception of 1976 when the question was not asked. He also appeared on the top 10 list from 1955 to 1961.
Graham, however, has never been the number one most admired man in the world though he has ranked second every year from 1969 through 1974.
Graham shares the number four spot on the 2014 list with former President George W. Bush. Bush, whose image rating has improved in recent years, was also named as most admired man by 2 percent of respondents.
Barack Obama led the top 10 list with 19 percent of respondents naming the first African American president as their most admired man. Obama has ranked number one for the past seven years. Pope Francis is second on the 2014 list at six percent followed by Bill Clinton.
Former surgeon Ben Carson and scientist Stephen Hawking rounded out the top five list. FOX News Host Bill O' Reilly, Israeli Prime Minister Benjamin Netanyahu and Russian President Vladimir Putin also made the top 10 most admired men of 2014 list.
A similar list of most admired women was led by Hilary Clinton, Oprah Winfrey, Malala Yousafzai, Condoleeza Rice and Michelle Obama in that order.