Franklin Graham Shares Childhood Memories With Pastor Greg Laurie at Operation Christmas Child Dedication Service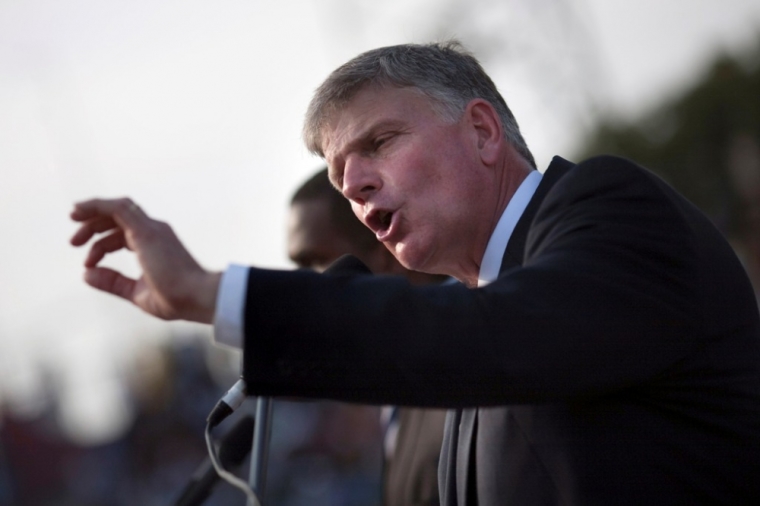 Franklin Graham reminisced about his Christmas traditions growing up with evangelist Billy Graham and Ruth Graham for parents, and shared how Operation Christmas Child shoeboxes make Christmas equally special for children around the world during an interview with pastor Greg Laurie at Harvest Christian Fellowship in Riverside, California, on Sunday.
Speaking with Laurie about holiday traditions, the Samaritan's Purse CEO said growing up as one of five children in the Graham household his mother, Ruth, loved to decorate the house for Christmas. He remembered, "The house was always decorated to the hilt. We had the stockings."
Franklin, who admittedly had a mischievous side as a child, recalled: "I remembered on year I got ashes and switches in mine."
His mom, the child of missionaries, also made a special oyster stew on Christmas mornings which hailed from her childhood in China. Franklin confessed that he did not enjoy that tradition. "I don't like oyster stew, period," he said. "Nobody ate it. My father ate it because he had to; we just rolled up our noses."
And his father, Billy, made sure his family remembered the spiritual significance of the season. "Christmas Eve, my father would read the Christmas story every year and then Christmas morning we would have time of Christmas prayer before we opened up any gifts,"
When asked by Laurie if his family memories make him sad or joyful, Franklin said they make him thankful. "Thankful for the home that I was raised in, for the parents, godly parents that loved God, that shared not only Christ in the home but they lived it. The Ruth and Billy Graham that the world saw on television, they weren't different people at home; it was the same people."
As the head of Samaritan's Purse, Franklin Graham brings together both the wonder and Gospel message of Christmas to children all around the world through ministry Operation Christmas Child. The ministry uses shoeboxes stuffed with toys and toiletries to spread the Gospel to millions of children in over 100 countries.
Franklin Graham said of the shoebox donations: "Every box that we give out, we have a discipleship program that we offer to the churches that help us around the world. We're in 110 different countries and we have these leadership teams in every country and we offer a discipleship program, it's called the Greatest Journey. The first year we had about — this is three years we been doing it — the first year we had about 800,000, last year we had 1.3 million, this year we'll have 2.3 million kids in discipleship programs around the world.
He continued: "It's a 12-week program. We train the teachers, we have a workbook, and then the kids have to memorize scripture, they have to say the scripture before their pastor, they have a graduation program and then everyone who graduates, we give a Bible to."
He said his hope is to raise up a generation of child evangelists who will share their faith with their peers.
Franklin advised those donating shoeboxs this year: "We ask people when they pack a box to pray for the box, but we also ask people to put your picture in there and put your address in the back. We want not only to pray for the children who get the box but for them to see who gave the box and if they can, to write back."