Ancient Pottery Shard Found at Site Believed to be Biblical Town Where Jesus Performed Miracles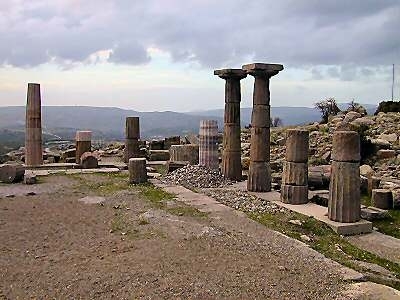 Israeli archaeologists have discovered a small, highly decorated pottery shard, which is about 2,300 years old and depicts the birth of the Greek goddess Athena, at a site that is believed to be the biblical town Bethsaida, where Jesus performed miracles, according to reports.
The shard was uncovered by the Bethsaida Excavations Project at a dig site north of the Sea of Galilee in 2016, but the archaeologists have found out now that it depicts the goddess Athena springing to life fully formed from the head of her father Zeus, as the nymph Dione and goddess Aphrodite look on, according to The Times of Israel.
The scene is a rare replica of what is found in the eastern pediment of the Parthenon, the richly carved marble temple dedicated to Athena completed in Athens in 432 BCE, the newspaper said.
Dr. Rami Arav, the project director and a professor of Religion and Philosophy at the University of Nebraska in Omaha, has excavated the e-Tell site, the location of both Bethsaida and the ancient city of Geshur, since 1987, with the Consortium of the Bethsaida Excavations Project, which is a group of 30 scholars from 18 international institutions.
In 1996, the team discovered a Bull Stele that stood atop an altar at the entrance of Geshur. In 2014, they discovered a rare Roman coin issued in 85 CE by Agrippa II bearing the phrase "Judea Capta," which commemorated the victory over the Jewish rebels and the destruction of the temple in Jerusalem, Arav was quoted as saying.
Last year saw numerous archaeological discoveries that researchers connected to stories in the Bible.
From mug workshops near the ancient town of Cana, where Jesus turned water into wine; to the possible discovery of the bones of St. Peter, the first disciple; to excavation work giving evidence for major battles and conquests described in the Bible, the year offered plenty in the way of apologetics discourse, as The Christian Post earlier reported.
In some instances, such as the analysis of mortar samples at the Tomb of Christ, it was the reliance on technological methods that produced new insight into the evidence for some of the most important Christian events in history.
In December, Greek and Danish archaeologists investigating Lechaion's harbour areas, as part of the Lechaion Harbour Project, discovered traces of Roman engineering and ancient buildings.
The port, which is located on the gulf of Corinth, was previously one of two that connected Corinth to trade networks in the region that helped the area to become fabulously wealthy. The Romans destroyed Corinth in 146 BC while conquering Greece, and Julius Caesar rebuilt the city and its harbours in 44 BC.
Jesus' disciple Paul visited the ancient city while it was under Roman rule, according to the Bible.