Angie Smith Talks Submitting to Her Husband, Women in Leadership and Christians Engaging 'Hard Topics'
Listen to Bestselling Christian Author and Popular Speaker's Exclusive Q&A With The Christian Post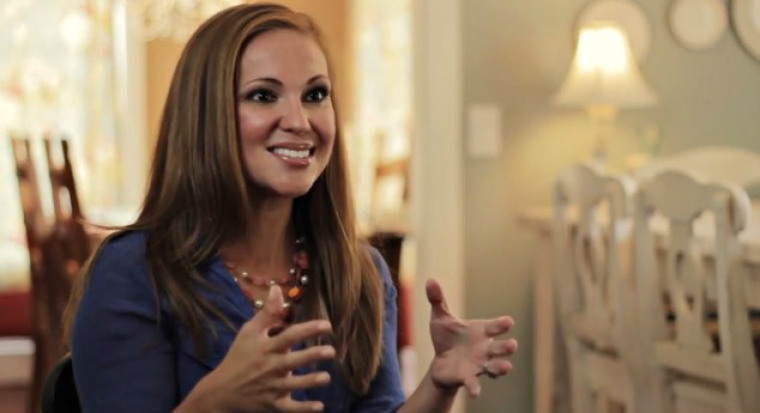 Bestselling author and popular speaker Angie Smith is grateful that Christians are finally doing "what the Lord has called us to" — engaging in genuine dialogue about "hard subjects" otherwise considered taboo in some circles, such as same-sex marriage and a woman's role in the Church. Smith recently spoke with CP about her stance on some of these issues, including wives submitting to their husbands.
Below is a transcript and audio excerpt of The Christian Post's phone interview with Smith, who also has just released her latest book, Chasing God (read more about the book here).
CP: Who are some men and women you either look to for inspiration in your walk, or think are doing amazing things right now in Christianity or in general?
Smith: My answer to this question will probably not vary much, just because she had such a profound effect on me, but the first person I always think of is Beth Moore. Just as someone who I really see as a role model and a woman whose heart is so tuned to God and who's so passionate about teaching His word. My life has been so impacted by her that she's always the first answer I have to that question.
CP: This issue comes up infrequently, but when it does come up there's always confusion about it, so what is your understanding of what Scripture says about a woman or wife submitting to her husband?
Smith: Those are buzz words right now, aren't there? I think there's a lot of room for misunderstanding. Ultimately, my feeling is that the husband is the head of the household, and that fits the pattern that's established in Scripture. But I think the mistake that we can make as a Christians is writing that down a piece of paper, having it look black and white and leaving it to be misunderstood. I think probably a better question that we can ask is: what does that look like? What does this look like in our everyday lives? I suspect that the answer might be different.
So in my case, I would say I submit to my husband. If we have different opinions about things and it gets down to it, he's the one who I would go with. But from a practical standpoint, that doesn't really happen very much. My husband comes to me to ask my opinion about things, and we make decisions mutually and we have a mutual respect for one another.
In practice, it's beautiful. But on paper, it's threatening. I wish there were more conversations about the way that it looks so we could clarify some of that.
CP: You're a popular speaker at conferences and churches? Where do you fall on women in leadership roles and women being pastors?
Smith: Well, for me personally, I'm mostly concerned with how I'm responding to God's call on my life. That's my lane, that's the race that I'm running. So my focus is always on being in communion with the Lord, listening intently for His voice, and being obedient when He calls me for different things. A huge part of that is being in the Word and following what I believe that it says.
There are plenty of situations that I don't feel comfortable in as a teacher, but that's my personal opinion and that's how I handle it. I hesitate to make a blanket statement because I think it's so often misconstrued, but my heart just says my job is to be obedient to the situations that I feel like God calls me to, and to decline the ones that I feel that He tells me not to do. That's sort of the simplest way that I can live my life well, I think.
CP: What are some things you've found yourself thinking about as you travel and engage without people? What are some things you find disconcerting or encouraging in regard to trends?
Smith: One of the things I'm noticing is that I think people are engaging in dialogue that they haven't engaged in in years past. Whether that is...just hard topics, everything from gay marriage to the things you've asked me, a woman's role in the Church. Whatever they are, you sort of just spread them all out on the table as the 'taboo' subjects of Christianity.
What's refreshing to me, at least in a lot of the circles I'm in, there's a genuine dialogue that I hope will bleed into relationship with the world that looks different than it has. I think so many times we've shied away from the conversation. I'm encouraged by the way that's starting to happen. At the end of the day, I really feel that that's what the Lord has called us to, so it means a lot to me to see it happening within the Body. It's been a sore spot to me when it happens, so I'm grateful to start seeing progress.
---
Angie Smith, wife of Todd Smith (lead singer of award-winning group Selah), also has authored Mended, I Will Carry You and What Women Fear. She lives with her husband and daughters in Nashville, Tenn. Follow her online: http://angiesmithonline.com.