Animated Christian Film 'The Star' Is the 'Greatest Story Never Told,' Says Director

An animated version of the nativity story told through the perspective of the animals that traveled with Mary and Joseph to Bethlehem and witnessed Jesus' birth is something that has never been done before, says the director of "The Star."
"The thing we're doing with this movie that lets us [have creative license is] that it's the story of the nativity, but from the point of view of the animals. That's a story that nobody has told before. We're calling it the greatest story never told," said Director Tim Reckart in an interview with Faithwire.
The film will be in theaters nationwide on Nov. 10.
Executive Producer DeVon Franklin added that "having the animals involved gives you some space to infuse creativity."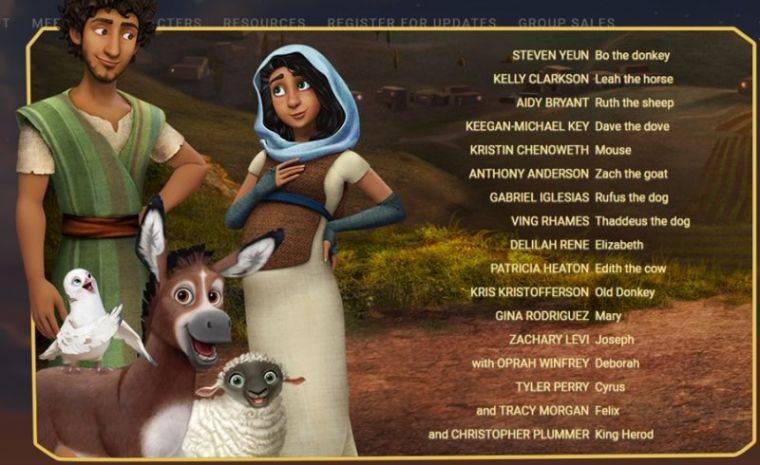 The film, according to its synopsis, follows "a small but brave donkey named Bo [who] yearns for a life beyond his daily grind at the village mill. One day he finds the courage to break free, and finally goes on the adventure of his dreams. On his journey, he teams up with Ruth, a lovable sheep who has lost her flock and Dave, a dove with lofty aspirations. Along with three wisecracking camels and some eccentric stable animals, Bo and his new friends follow 'The Star' and become accidental heroes in the greatest story ever told — the first Christmas."
Franklin said the film offers many lessons for viewers and Bo's internal feeling that there's something greater for him to pursue will inspire many. He hopes the film will leave audiences feeling both "hopeful" and "purposeful."
"We all have a destiny, a calling or a purpose ... [often] we don't realize how it's all working toward it," Franklin added. "That's what's kind of great about Bo's journey."
The Christian Post first reported on "The Star" in January and attended a screening of the trailer in March at the annual National Religious Broadcasters' Christian media convention in Orlando, Florida.
During the trailer screening, Franklin named the A-list cast in "The Star." The movie will feature Steven Yeun as Bo the donkey, Kelly Clarkson as Leah the horse, Anthony Anderson as Zach the goat, comedian Gabriel Iglesias as Rufus the dog, Kris Kristofferson as the Old Donkey, Gina Rodriguez as Mary (Mother of Jesus), Zachery Levi as Joseph, Oprah Winfrey as Deborah, Tyler Perry as Cyrus and Tracy Morgan as Felix.
"The Star" is directed by Academy Award-nominated writer/director Reckart ("Head Over Heels"); executive-produced by Franklin ("Miracles from Heaven"), and Lisa Henson and Brian Henson (The Jim Henson Company); and the screenplay was written by Carlos Kotkin with digital animation by Cinesite Studios.
For more information about the film, click here.