Anti-Semitic Elmo: Dan Sandler Imprisoned for $2 Million Girl Scouts Extortion Plot (VIDEO)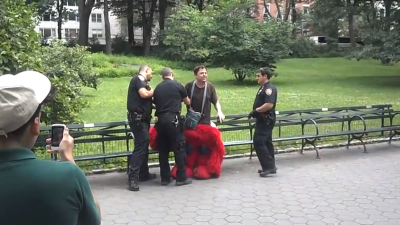 An anti-Semitic Elmo performer, dubbed the "Evil Elmo," who was previously arrested in New York City after going on a rant against the Jewish religion, has been sentenced to a year in jail for an unrelated failed plan to extort $2 million from the Girl Scouts.
The Elmo performer, Dan Sandler, was unapologetic to the Girl Scouts, saying after his court appearance on Wednesday: "I accept the fact I committed a crime, but I'm not in anyway sorry to the Girl Scouts organization."
Sandler has previously been arrested for his anti-Semitic rants in Times Square, and he used to work as a temp for the Girl Scouts several years ago.
However, he since has held a grudge against the Girl Scouts group, and in 2012 he began sending "alarming" emails to staff members at the group.
In the emails he threatened to spread false rumors about the organization if they did not give him money. He also sent "semi-nude" photos of himself to a former supervisor.
One email read: "If I go the controversial route I will probably publish fictitious content about the Girl Scouts. And name names….Like your name! Because you were my caring supervisor who now gives me the silence [sic] treatment."
As he was sentenced to one year in prison for his scheme, Sandler remained unapologetic and called the Girl Scouts "very corrupt." He said his crimes "were more of a protest, like laying down in an intersection."
Here is a video of the man being arrested in New York City previously while carrying out his anti-Semitic rant (Caution: Strong language used):