Appeals Court Paves Way for Illegal Immigrant Teen to Get Abortion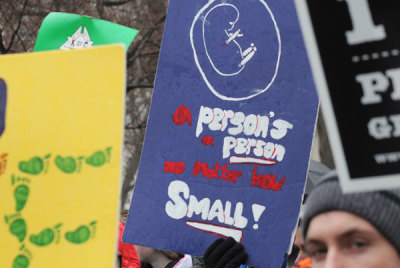 A U.S. appeals court on Tuesday ruled that a 17-year-old illegal immigrant in federal custody in Texas should be able to obtain an abortion immediately despite the objections of President Donald Trump's administration.
The U.S. Court of Appeals for the District of Columbia Circuit, on a 6-3 vote, overturned a decision by a three-judge panel of the same court last Friday that prevented the girl from having an immediate abortion. The administration still could ask the Supreme Court, which has a conservative majority, to hear the case.
The court split on ideological lines, with six Democratic-appointed judges in the majority and three Republican appointees dissenting.
The case involves the intersection of two divisive social issues on which Trump has taken a hard line: abortion and immigration. Among the issues the dispute raises is whether illegal immigrant women have the same rights to an abortion, as established by the Supreme Court, as U.S. residents.
In the decision on Friday, the three-judge panel ruled 2-1 that if the U.S. Department of Health and Human Services (HHS) signed off on a person who could act as her official U.S. sponsor, the girl "will be lawfully able, if she chooses, to obtain an abortion on her own," without the government being involved.
The court on Tuesday threw out that decision and sent the case back to the district court judge to set a new timeline for when the teenager can obtain the abortion she requested.
In a concurring opinion, Judge Patricia Millett wrote that the decision "rights a grave constitutional wrong by the government."
In a dissent, Judge Brett Kavanaugh said the court has embraced "a new right for unlawful immigrant minors in U.S. government detention to obtain immediate abortion on demand."
The girl, whose nationality has not been disclosed, is currently detained in Texas and about 15 weeks pregnant. She entered the United States without any family in September and was immediately detained by U.S. authorities and placed in a shelter.
A federal judge in Washington last week ruled the abortion procedure could go ahead before the appeals court panel intervened.