Appeals Court Sets Date to Hear Arguments in Four-State Ban on Gay Marriage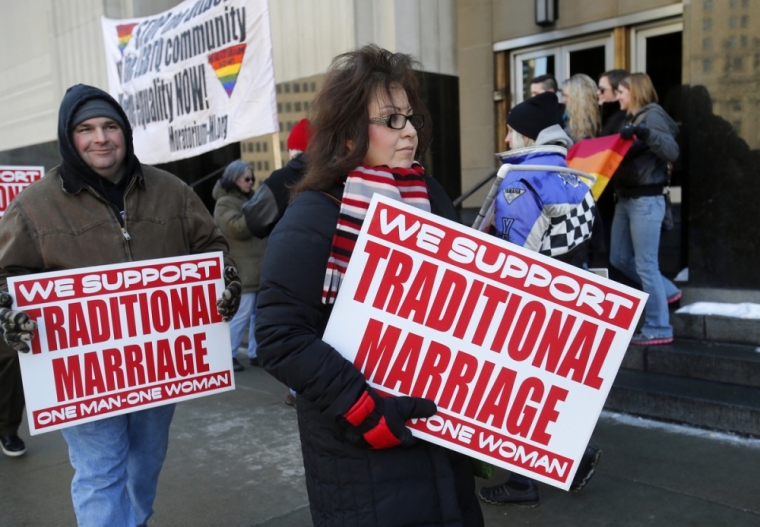 A panel of the Sixth Circuit Court of Appeals has scheduled oral arguments on lawsuits pertaining to four states' marriage amendments.
Justices decided Monday to combine the four cases into one appeal, whose arguments will be brought before a three-judge panel on Aug. 6.
Marriage amendments from Kentucky, Michigan, Ohio and Tennessee will be on the agenda for the panel, as each one has been declared unconstitutional by lower court judges.
The appeal before the Sixth Circuit is one of many being made across the country as rulings from individual judges are challenged, SCOTUS Blog reports.
"Same-sex marriage cases are now in progress in five federal appeals courts, with hearings already held in the Fourth Circuit (a Virginia case) and the Tenth Circuit (cases from Oklahoma and Utah)," wrote Denniston.
"Decisions in any of those cases apparently could come any day, and one or both of them could reach the Supreme Court in a matter of months."
In 2004, states across the country and the political spectrum approved referenda adding a marriage definition to their state constitutions.
During that year voters in Kentucky, Michigan and Ohio passed ballot initiatives that added amendments which stated that marriage shall be legally recognized as being between one man and one woman.
Kentucky's Amendment 1 passed with 75 percent of the vote, Michigan's Proposal 04-2 passed with 59 percent of the vote, and Ohio's Issue 1 passed with 62 percent of the vote.
In 2006, Tennessee's Amendment 1 passed with 81 percent of the vote, with a CNN survey finding that even a majority of self-described liberals (53 percent) supported the measure.
All four amendments were struck down by judges over the past few months, with Kentucky's attorney general stating in a conference call that he refused to defend his state's amendment.
"More than a dozen federal and state judges have struck down part or all of state-level bans in recent months. No rulings have gone the other way," reported The Associated Press.
"It's unclear whether it will issue a large ruling encompassing all the cases or separate ones. Any losing side could appeal to the U.S. Supreme Court."
The Sixth Circuit's scheduling of arguments was made as groups advocating for marriage to be legally defined as only between one man and one woman plan to march on Washington, D.C. The second annual "March for Marriage," chiefly organized by the National Organization for Marriage, is scheduled to take place Thursday.
The march will be preceded by a rally, with featured speakers tto include former Arkansas Gov. Mike Huckabee and former U.S. Senator Rick Santorum.