Are Charismatic Leaders in Africa 'Pastors or Witch Doctors,' Asks Conrad Mbewe at John MacArthur's Strange Fire Conference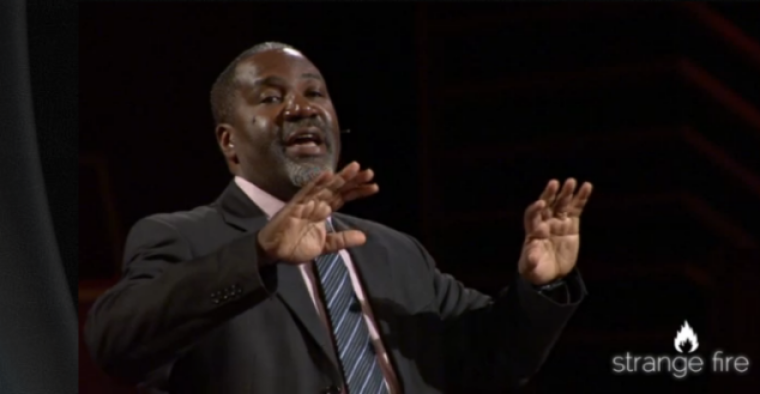 The Rev. Conrad Mbewe, the pastor of Kabwata Baptist Church in Lusaka, Zambia, opened the third day of Pastor John MacArthur's Strange Fire conference in Sun Valley, Calif., on Friday by asking the question, "Are we preachers or witch doctors?"
Mbewe acknowledged that asking such a question is "strange for the American ear" to hear, but added that, for him, as a pastor in Africa, he believes the modern charismatic movement is taking on the image of false traditions, in which pastors are acting like witch doctors by telling people ancestral spirits are keeping God's blessing from reaching them; but if they are paid a sum of money, they will wrangle with the spirit, or demon, and cast them out.
Reading from 2 Timothy 3:16-17 and 4:1-2, he said: "All Scripture is God-breathed and is useful for teaching, rebuking, correcting and training in righteousness, so that the man of God may be thoroughly equipped for every good work. In the presence of God and of Christ Jesus, who will judge the living and the dead, and in view of his appearing and his kingdom, I give you this charge: Preach the word; be prepared in season and out of season; correct, rebuke and encourage – with great patience and careful instruction. "
According to Mbewe, in Africa, there has been a seismic shift in the popular understanding of who a pastor is supposed to be. This lack of understanding, he said, has led to a number of immoral and criminal acts being committed by pastors who've assumed the title of "man of God," and are using their position to spread false doctrine and take advantage of their followers.
"Preaching in the popular charismatic circles across Africa has lost content, and is largely nothing more than motivational platitudes, followed by a lot of shouting and chanting," he commented, adding that the U.S. equivalent would be some of the televangelists who preach a similar message of their ability to heal and bring prosperity.
To illustrate his point, Mbewe cited newspaper articles that report on a preacher in Africa who impregnated young women in his church, and, according to his wife, also performed as a witch doctor. A second incident he noted was of pastors who told two women to walk up a hill, naked, in the middle of the night, because they were going to pray for them, but instead, they raped the women.
According to Mbewe, in Africa's charismatic movement, many pastors fail to provide biblical counseling when people come to them with their problems. Instead, they encourage them to attend overnight prayer meetings where they profit from motivational speeches that are followed by the laying on of hands.
"The work begins after the motivational talk is over. It begins with the laying on of hands when the multitudes come forward, often during prolonged church services, overnight prayer meetings, and all-day prayer times on the hills," he described.
Mbewe added that these pastors tell people that what they need in order to solve their problems – be it infertility or marital relationship issues – is "deliverance" and a "breakthrough" that can come only by attending an overnight prayer meeting.
"That's the panacea for all the ills," he said. "It's precisely what the witch doctor in the village does. Two things show the similarities."
He continued: "First of all, it's the claim toward spiritual discernment after a lengthy time of prayer, in which the 'man of God' seems to have secret dealing with God. God is somehow communicating to him what you have absolutely no knowledge of. And then, after having heard from God, he then tells you what the problem is. That's exactly what the witch doctor does."
"But the second," he added, "with respect to healing, is that like the village witch doctor, the African charismatic preacher sees a conventional medical doctor as a competitor. To go to a hospital after being prayed for is a betrayal of trust and a lack of faith. You are undoing what the 'man of God' has done. Many people have died of illnesses that could have been cured by conventional medicine."
Mbewe said he often asks himself, "How can this be happening so frequently among so-called evangelical churches?" And noted that he believes it's a result of blind loyalty among the followers, because the phrase man of God is the equivalent of the village witch doctor.
Even though he spoke specifically about the charismatic movement in Africa, according to Mbewe, this movement is "fast becoming the face of evangelical Christianity to the outside world."
In his observation, he said the individuals in this movement don't reflect what's taught in 2 Timothy, because there's an absence of scripture, repentance, and the absense of any effort to encourage people to conform their lives and to become Christ-centered. "It is all about how you can get so much that you are looking to spoil yourself with," he said.
A statement he cited as an example of a false utterance is: "I declare prosperity on your life, in Jesus' name."
"Why should his declaration be more powerful than mine?" Mbewe asked. "I might as well be declaring prosperity on my own life in Jesus' name."
According to Mbewe, the constant repetition of "in Jesus' name" by the "charlatan" charismatic evangelicals are similar to the repetitive utterances of the village witch doctor.
He closed by sharing a story of an event in which he was scheduled to be on a national radio broadcast in Zambia, where he was to be joined by a charismatic evangelical pastor who holds all-night prayer and healing events, but who later dropped out at the last minute. Mbewe suggested that the charismatic preacher's decision to drop-out at the last minute was a sign that he is indeed teaching false doctrine. And he decided to take the opportunity as a guest on the radio program to ask people to call in and share their testimonies about recent miraculous healings experienced at the charismatic-evangelical events, but none was received.
"In Zambia we have the Zambian Council for the Handicapped, an organization that looks after the wellbeing of the handicapped and physically challenged. When this phenomenon because too much, they made a public statement, 'stop going to these meetings that claim that they are healings. Because, according to our records, there's not been a single individual healed by these meetings.'"
"They claim to have gifts they don't have. What is that but fraud, inequity, wickedness? They've not only abandoned the word they were told to do. They are claiming to do what they are, in fact, not doing. Simply to draw the crowds and get their money. … We must emphasize 2 Timothy, and call the pastors back to what their work is."