Arizona passes law banning abortions based on genetic abnormalities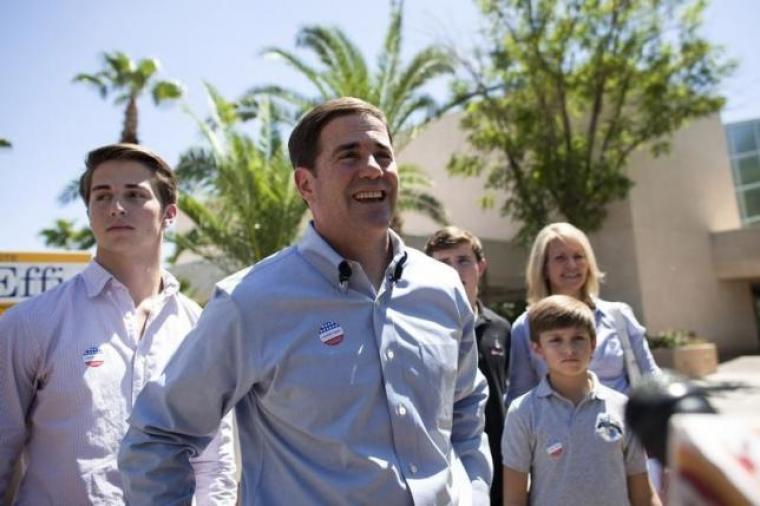 Arizona Gov. Doug Ducey signed a sweeping bill into law that makes it a felony to perform an abortion based on genetic abnormalities of unborn babies, such as Down syndrome, and also enacts several other pro-life measures. 
Known as Senate Bill 1457, Ducey signed the legislation on Tuesday, saying in a statement that the new law is part of his commitment to pro-life ideals.
"There's immeasurable value in every single life — regardless of genetic makeup," stated Ducey. "We will continue to prioritize protecting life in our preborn children, and this legislation goes a long way in protecting real human lives."
SB 1457 was sponsored by State Sen. Nancy Barto and includes exemptions for life-threatening medical emergencies for the mother and when the deformity is itself lethal.
Medical providers who do perform abortions prohibited in the law could face the possibility of prison time. 
The bill also prohibits "a facility that is run by or that operates on the property of a public educational institution" from performing an abortion unless it "is necessary to save the life of the woman having the abortion."
Further, SB 1457 bars public funding of university or college research on aborted fetal remains and requires proper burial of the remains of surgically aborted unborn babies.
"We need to protect our most vulnerable, especially those with treatable genetic conditions," stated Barto. "They are loved, integral members of our community that make Arizona whole — and I'm proud to sponsor legislation that gives them a voice before they're even born."
Critics of the legislation include the Arizona chapter of the American Civil Liberties Union, which last week urged Ducey to veto SB 1457. The organization labels the bill as "dangerous."
"The decision to have a child is too important to leave to politicians. That's why abortion is a constitutional right. It's critical for people to be able to access abortion if and when they need care," stated ACLU of Arizona Policy Director Darrell Hill.
"This law will have a chilling impact on a person's relationship with their doctor and will make it harder for a person to have honest and informed conversations with their health provider."
The federal courts have been divided on the constitutionality of similar laws. Earlier this month, the U.S. Sixth Circuit Court of Appeals ruled in favor of an Ohio law banning abortions performed because a baby has been diagnosed with Down syndrome. 
In January, the Eighth Circuit ruled against a similar Arkansas law. 
In recent years, Arizona has passed several pro-life laws, including ones that mandate a 24-hour waiting period for women seeking an abortion and another that bans telemedicine abortions.
Last November, Planned Parenthood Arizona dropped litigation against those laws, though still expressing opposition to the enforcement of the measures.