Atheism as a Religion: A Book Excerpt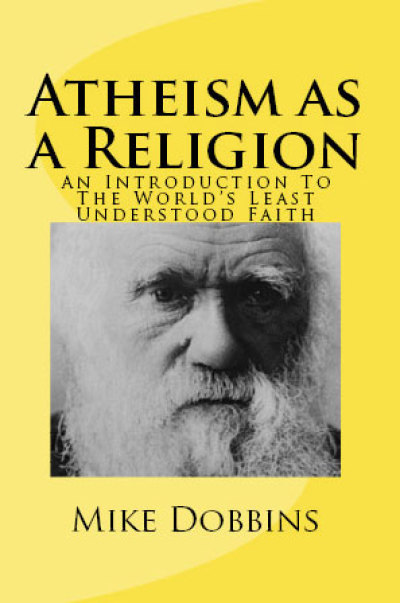 One sacred symbol to atheists is the 'A' that symbolizes atheism. Three 'A' symbols are prominent in atheism. One 'A' symbol was created in 2007 by Atheist Alliance International and has a circle around it. The circle is meant to symbolize the unity of all atheists and the inclusion of all other atheist symbols. As you can tell, not only are these symbols for atheism, there is atheist religious symbolism within them that only atheists or those who study atheism know.
A second popular 'A' symbol was created by Richard Dawkins and is a red letter 'A' on a right leaning slant. The Freedom From Religion Foundation (FFRF) has adopted this symbol to represent it when they set up monuments to atheism. The third sacred 'A' symbol was created by the American Atheists and is placed in the middle of an atomic circle. The organization chose this as their symbol in 1963 to demonstrate their faith that science can save and free mankind. The letter 'A' stands in the middle of the atomic sign but rather than meaning atheism, it represents the first letter of the country in which the group is located. This obviously leads to problems since 'A' could stand for Austria, Algeria, Australia, and so on, but I suppose they weren't thinking that far ahead. The Atomic A, as it is known, is allowed on gravestones of U.S. military personnel who are atheists. Atheism is so sacred to some atheists that they want the atheist 'A' to represent them to the world after their death.
Many atheists demonstrated just how sacred the symbol 'A' is to them in the Christmas of 2013. Since my hometown city of Chicago allows a Hanukkah Menorah and Nativity scene to display on government property during the holiday season, the atheists asked to display their own religious symbol so the government wouldn't give the appearance to be endorsing one religion or the other. The monument the Freedom From Religion Foundation chose was a giant Richard Dawkins letter 'A' which stood 8 feet tall and lit up red at night for all to see. Countless atheists showed respect for the 'A' by making a pilgrimage to the site where the 'A' was displayed and having their picture taken with the 'A' which I'm sure will be kept as a cherished keep sake for many. Still, the giant red A was not enough. They also advocated for their atheist faith by erecting a sign that read, "There are no gods, no devils, no angels, no heaven or hell. There is only our natural world. Religion is but myth and superstition that hardens hearts and enslaves minds."
The atheist monument is further proof that atheism is a religion and in direct competition with theist religions for followers. Moreover, they have gone beyond telling people what they stand for and actually attack what others believe in. The FFRF sign is incredibly hateful towards all religions and actively tries to demean God and faith. The FFRF and many secular organizations like them are anti-faith, anti-God, and anti-religion. It is not enough for them to have their symbol and state what they believe in, as the Christian and Jewish symbols do. The FFRF must go one further to state what they dislike about other faiths. I just can't imagine a Christian nativity scene ever placing a sign next to the nativity stating something cruel and hateful towards other religious faiths. For some reason, atheists at FFRF can still sleep at night doing this. This speaks very poorly of the character of leaders and members of the group. The positive message within atheism must be very weak if they must resort to such hateful, negative tactics.
An additional religious symbol is the atheist Darwin fish. The fish was traditionally a symbol of Christianity for early Christians to recognize each other and since many of Jesus's disciples were fishermen who he would transform into 'fishers of men.' The atheists have usurped the symbol to declare their belief that Darwin's theory of evolution proves God doesn't exist. Since the fish is a creature from the natural world, it made for an easy transition to a symbol for atheism. Atheist's display the fish with the word 'Darwin' across the middle or with feet on the bottom and proudly wear it on t-shirts and bumper stickers. While it may have started as a parody on the Christian fish symbol, it is now an easy way for atheists to recognize each other, mission to non-atheists, and show their gratitude and respect to the person whose scientific work they believe is the foundation for much of their atheist faith, Charles Darwin.
Many more, less popular symbols exist including the empty set symbol of mathematics, the invisible pink unicorn, and the flying spaghetti monster. As the atheist religion continues to fortify itself certain symbols will likely tend to dominate as they work for uniformity and cohesion amongst all atheists.
Atheists are also installing their own religious monuments across the United States. In July of 2013 the American Atheists erected a monument at a Florida courthouse that had allowed the displaying of the Ten Commandments. Ken Loukinen, an American Atheists director of state and regional operations stated "Christianity has had an unfair privilege for at least the last 150 years. We want to level the playing field by stripping them of privilege, and bringing them to equality with all other ideologies." The group has said they will erect 50 more monuments in other locations where the Ten Commandments sit on government land. As Ken Loukinen admitted, the monuments are an effort for the faith of atheism to compete with the other religious faiths.
The monument has the atomic symbol with the letter 'A' in the middle to represent the group and atheism. A quote on the monument states, "An atheist believes a hospital should be built instead of a Church." Little do they acknowledge it was religious temples in Greece, Egypt and other places that first served as hospitals, the numerous hospitals built by Christian charities in the United States, and that atheists have yet to build a hospital in the USA. In the article, the atheists are very explicit about where their priorities are: building 50 more religious monuments to atheism. Perhaps a better quote for the atheist monument would read, "An atheist is someone who says they want a hospital in place of a Church, but then settles for erecting a religious monument to atheism instead." Not soon after this monument was erected, the Sunday Assembly began its cross-country trip across America raising money for…the atheist Church. Atheists may say they want a hospital instead of a Church, but as atheism in practice demonstrates, their first priorities are monuments and places of atheist worship.
This is an excerpt from the newly released book, Atheism As A Religion: An Introduction to the World's Least Understood Faith, by Mike Dobbins.