Atheist Sam Harris Partly Right That God Not Necessary for Morality, Christian Apologist Says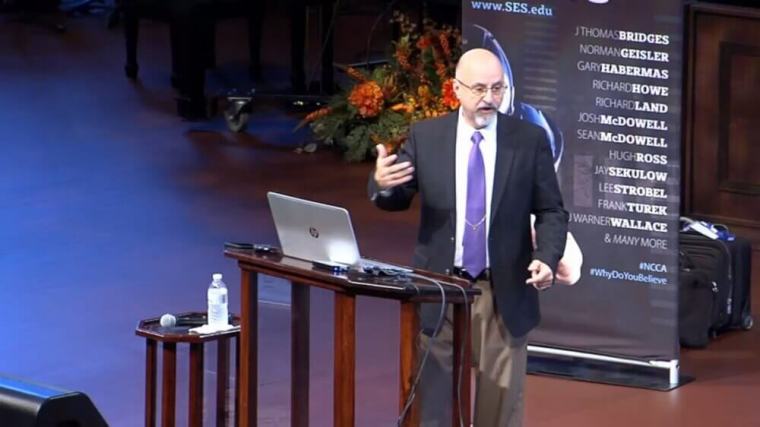 A Christian philosophy professor said at the Southern Evangelical Seminary's annual apologetics conference on Saturday that in some sense, the atheist argument that God is not necessary for morality can hold water, but in another it fails to see that God is needed for humans to achieve their ultimate purpose.
"Is God necessary for objective morality? There is a sense in which that answer is no, God is not necessary for objective morality. I also think there is a different sense in which the answer is yes," Richard Howe, philosopher and professor emeritus at Southern Evangelical Seminary, said at the 23rd annual SES National Conference on Christian Apologetics.
Howe took his presentation in a number of different directions, and first analyzed the nature of God Himself, noting that even though the Bible mentions God having eyes, or breath, He is not limited to having such things only in the physical sense, as humans are.
In another sense, Howe suggested that it could be correct to say that God is "not a moral being," if one is looking to "preserve something greater about God." The apologist explained that "there is something about morality that by its very nature is finite," which applies to humans but not God.
Examining the question of morality, he noted that humans have been trying to define the concept for thousands of years.
As an example he spoke about the Nuremberg trials in 1945, where allied powers judges took to trial Nazis involved in the atrocities committed by the German Third Reich, and found them guilty not of breaking national law, but of committing crimes against humanity.
Howe argued that there is a difference between biblical morality and a broader morality — though for Christians, observing the Lord's Supper is important, non-believers are not obligated to follow such rituals. There are also commandments in the Bible, such as "Thou Shalt Not Kill" — which everyone in society must obey, however.
"It applies to you on the basis of you being a human being," he said, adding that what is means to be a human being depends on the essence of the above-mentioned humanity.
"It is your nature as a human that obligates you to behave in a certain way," Howe continued.
He next made a distinction between nature and function, and said that a mistake some atheists make is to limit humans to their function. He suggested that pro-choice people "think of humans functionally," and that is why when they think of a zygote, they do not imagine a real human being, because it does not display the functions of a baby yet.
Howe argued that since humans are not limited to their function, one must also take into account their essence as a human, or soul — "a baby is not just its function, it has a nature, it has an essence that makes it human," he said.
"The nature of a thing sets that thing on a trajectory toward some kind of destiny" of fulfilling its functionality, he continued, and said that the end goal is directed "by virtue of being the kind of thing" that it is.
The apologist offered that God is not necessary to understand how some things function — such as gravity, and in a sense atheist authors and philosophers such as Sam Harris are correct when they say that the purpose of objective morality is to lead to human flourishing.
"I think Sam Harris has a lot more to his position than some of us might have previously thought," Howe suggested.
Still, he argued that the concept of human flourishing cannot be understood without the concept of human nature, and that is what creates the "building blocks" for the argument that leads to God.
"God is the superintendent — there is an obligation that arises to obey this superintendent. Why? Because His intention is to bring about everyone's good," Howe explained.
He elaborated further by stating that even if believing in God is not necessary for understanding gravity, the truth of the matter is there wouldn't even be gravity without God. And in that sense, Howe said, God is necessary for human morality, because without God there would be no humans in the first place.
"God is necessary for the very existing of all the things that make up morality," he summarized at the end of his speech.
"We are morally obligated to obey the will of our maker, because His ultimate purpose is our flourishing."