Atheists Demand Texas High School Remove Christian Flag, Students Respond by Flying Their Own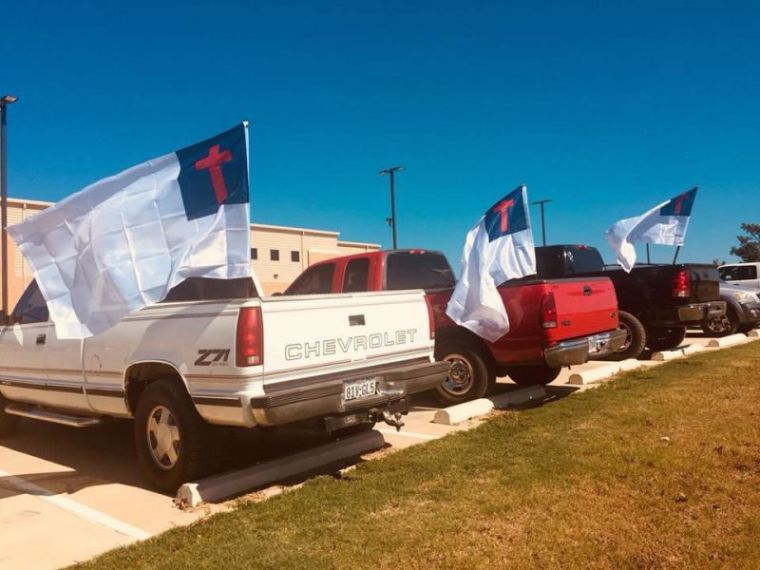 Students at an East Texas high school have responded to an atheist group's demands that the school remove a Christian flag by bringing their own Christian flags to fly on school grounds.
Many in the community of Larue, Texas, are speaking out against the nation's leading secularist legal organization, Freedom From Religion Foundation, after it sent a letter to the Superintendent James Young of LaPoynor Independent School District on Oct. 11 to demand that LaPoynor High School stop flying a Christian flag alongside the United States and Texas flags in front of the school.
FFRF attorney Sam Grover wrote in the letter that FFRF was contacted by a former student following the school's participation in the annual "See You at the Pole" event on Sept. 27.
Grover argued that the flying of a Christian flag could be considered a school endorsement of Christianity and a violation of the Establishment Clause of the First Amendment to the U.S. Constitution.
Local news station KETK reported that a small group of students responded to FFRF's demands by flying three large Christian flags from the back of pickup trucks parked in the school's parking lot on Wednesday.
A photo was posted to Facebook by community member Danielle Reichert-Davis.
"So you didn't like the one flag we had flying, how about three more," Reichert-Davis wrote in her Facebook post. "We have a great group of kids I tell you what."
One student told the local NBC affiliate that he even drilled a hole in his truck's tailgate to be able to fly the flag.
"This is our way of life for me and everybody around here," high school junior Gunner Gracey told KETK.
Student Dawson Turner told KETK she doesn't believe the Christian flag should be taken down. Fellow junior Jared Sanchez told the local NBC affiliate that although FFRF is going to try to remove the Christian flag, "we're going to fight for it."
Holley Franklin, a LaPoynor High School parent and former student, told KETK that she went to school at LaPoynor from kindergarten through 12th grade and asserted that "Jesus has always been alive and well here."
"If God is challenged, He is up for the challenge and God is going to win," parent Shaine Snyder told the news outlet.
According to KETK, the school district issued a statement explaining that it's in the "process of reviewing the concerns addressed in the correspondence and will take any action deemed necessary."
Grover argued in his letter that "a majority of federal courts has held displays of Latin crosses by government entities to be unconstitutional."
"As the Supreme Court explained, 'school sponsorship of a religious message is impermissible because it sends the ancillary message to members of the audience who are non adherents that they are outsiders, not full members of the political community,'" Grover wrote.