Atheists Protest to Remove Cross on War Memorial in Indiana State Park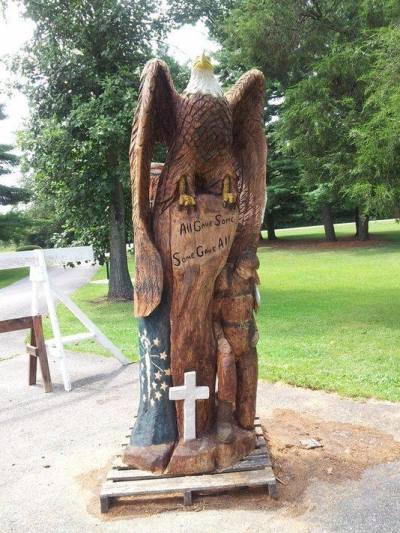 Atheists are protesting to remove a cross on a war memorial located in an Indiana state park.
The sculpture is currently in the Whitewater Memorial State Park, but could be removed if the cross is not taken away.
"The religious significance of the Latin cross is unambiguous and indisputable" Rebecca Market, attorney for the Freedom From Religion Foundation, wrote in a letter to the state park. "An overwhelming majority of federal courts agree that the Latin cross universally represents the Christian religion and only the Christian religion."
The statue features an eagle atop a tree; a 14-inch cross is at the bottom. The words "all gave some; some gave all" are carved into the statue. On one side of the eagle perch is the Indiana state flag and on the other is a soldier. Dayle Lewis created the statue and did not originally intend to include a cross on the memorial.
"I'd asked for inspiration for a memorial on Facebook and someone mentioned a cross," Lewis told Pal-Item.com. "That part of the sculpture was plain and needed something. You can see the carving from all 360 degrees. It's right beside the soldier who is kneeling. When you think about memorials, crosses are everywhere. I guess I got a little 'outside the box.'"
Some groups are petitioning for the memorial to be left as it is inside the park, which was built in memoriam to those who served their country.
"We think it's crazy that anyone would object to this. That state park is a memorial to veterans," said veteran Robert Napier to the website. "This carving would just be part of that. The Department of Natural Resources tried to shorten the park name once, leaving out 'memorial' and we just told them about it. The park started out as a memorial to the World War II vets and when the Moving Wall was displayed there on the beach, it expanded to be a memorial to veterans of all wars."
Another veteran, Wendell Bias, sent a letter to the DNR stating that he did not think the cross was appropriate or necessary.
"I just thought that a memorial to veterans in a veterans' park didn't need to be turned into a religious shrine," he told The Indy Star.