August's Perseid Meteor Shower Will Be Spectacular With Double Meteors Diving Into Earth's Atmosphere, NASA Says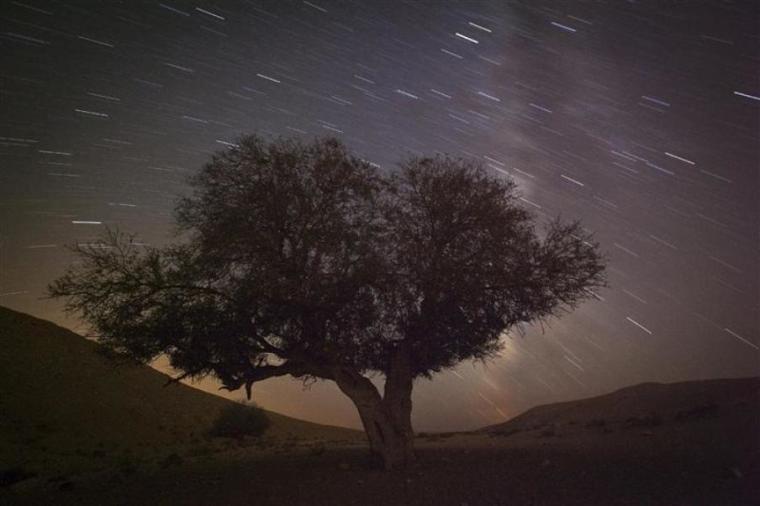 Shooting stars will likely light up the night sky next week during a meteor shower known as Perseid, which will be more speculator than we have witnessed in the previous 20 years, according to experts at NASA.
The Perseid, which show up every year in August, are returning this year on the night of Aug. 11-12, and Bill Cooke with NASA's Meteoroid Environments Office in Huntsville, Alabama says, "Forecasters are predicting a Perseid outburst this year with double normal rates… Under perfect conditions, rates could soar to 200 meteors per hour."
An outburst is a meteor shower with more meteors than usual, NASA explains, adding that the last Perseid outburst occurred in 2009.
"Here's something to think about. The meteors you'll see this year are from comet flybys that occurred hundreds if not thousands of years ago," Cooke adds. "And they've traveled billions of miles before their kamikaze run into Earth's atmosphere."
The Perseid meteors travel at 132,000 miles an hour, which is about 500 times faster than the fastest car in the world, NASA explains. At that speed, even a smidgen of dust makes a vivid streak of light when it collides with Earth's atmosphere, and peak temperatures can reach anywhere from 3,000 to 10,000 degrees Fahrenheit as they speed across the sky.
Shooting-star watchers in the Northern Hemisphere should be outside between midnight and dawn, and give about 45 minutes to their eyes to adjust to the dark. "Lie on your back and look straight up. Increased activity may also be seen on Aug. 12-13," according to NASA.
One of Michigan's Dark Sky Preserves will offer a good view of the meteor shower. There are three parks designated as the dark sky preserves, namely the Thompson Harbor State Park, Negwegon State Park, and the Rockport State Recreation Area, according to Nature World News.
The spectacle will continue to improve as dawn approaches because the shower's radiant — the spot on the border between the constellations Perseus and Cassiopeia where the meteors appear to emanate from — climbs higher, according to Astronomy.com.
Perseid meteors hail from the Comet Swift-Tuttle, which orbits the sun every 130 years. They pose no danger to Earth, as most of them burn up 50 miles above our planet. But, NASA says, an outburst could mean trouble for spacecraft.
Ustream TV will do a live broadcast of the Perseid meteor shower overnight on Aug. 11-12 and Aug. 12-13, beginning at 10 p.m. EDT.