Australian Church on Fla. School Shooting: 'When Will They Love Their Kids More Than Their Guns'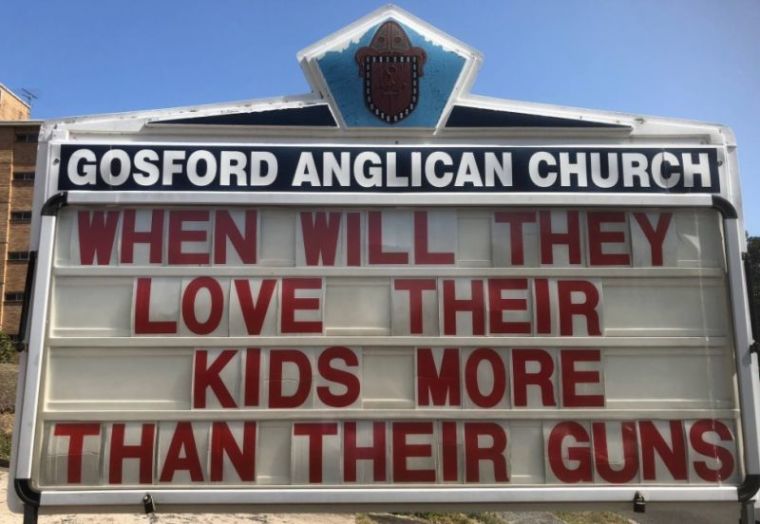 A church in Australia weighed in on the gun control debate following the mass school shooting that took place in Florida, asking on its marquee sign: "When will they love their kids more than they love their guns."
Gosford Anglican Church, a congregation based in new South Wales known for posting controversial messages supporting progressive viewpoints, posted the sign in response to the Parkland, Florida, school shooting that resulted in 17 deaths.
In a statement posted to its Facebook page last Thursday, Gosford Anglican gave its condolences to the victims and families and also called for a response to gun violence.
"[The United States] is a society destroying itself from within, an empire in decline, it can never be great again. A culture that loves guns more than children has no future other than corruption, decline and death," stated the church.
As of Monday morning, Gosford Anglican's Facebook post with a photo of the marquee sign has more than 32,000 shares and about 6,000 likes.
On Valentine's Day, a shooter entered Marjory Stoneman Douglas High School in Parkland and opened fire, murdering 17 people and wounding around 20 others.
The suspected gunman in custody is Nikolas Cruz, a 19-year-old former student who was expelled by the high school for disciplinary issues.
The Parkland mass shooting has reignited the debate over increased federal gun control, especially the call for a ban on assault weapons like the one used in the recent shooting.
Gun control advocates have pointed to Australia as a model for how to respond to a mass shooting, as the Pacific nation increased its gun regulations following a 1996 mass shooting in Tasmania that resulted in 35 deaths.
According to a 2016 study published by the Journal of the American Medical Association, gun violence decreased following the enacting of the legislation, with mass shootings no longer taking place.
"From 1979-1996 (before gun law reforms), 13 fatal mass shootings occurred in Australia, whereas from 1997 through May 2016 (after gun law reforms), no fatal mass shootings occurred," wrote the researcher, as quoted by NBC News.
According to its website, Gosford Anglican supports "radical inclusion" and "community engagement," with a strong concern for "asylum seekers and refugees, the poor, the exploited, the victims of homophobia and many others who are often abused."
"We see that the prophets of the Old and New Testaments challenged unjust and oppressive social systems, often at great cost to themselves," noted the church.
"We believe that churches should be fearless in speaking out against any system of government or hardness of hearts that fails to uphold the inherent dignity of human beings."