Bachmann Drops Out, Says Faith in God Is Unshakeable
Minnesota Congresswoman and once presidential hopeful Michele Bachmann held a press conference Wednesday in West De Moines, Iowa, announcing that she will "stand aside" and not seek the presidency after a poor showing in the state's caucus.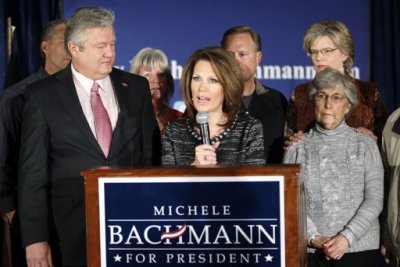 Speculation regarding the end to her White House bid began after she canceled her campaign trip to South Carolina Wednesday morning. She finished a lowly sixth place with only 5 percent of the vote in Iowa, her birth state, and her campaign is reportedly low on funds. Despite telling her supporters Tuesday night that she would fight on, Bachmann has decided that the best way to "make President Obama a one-term president" may be in a capacity other than the GOP nominee.
It was only a few months ago, in August, that Bachmann seemed to be launching a successful campaign. She finished first place in the Iowa Ames straw poll and her national momentum seemed to be picking up steam. However, it wasn't for long. Shortly after her win, her support eroded and campaign funds reportedly dried up.
In the press conference Wednesday, Bachmann missed no opportunity to continue hammering the president on what she believes is his socialist agenda that "endangers the very survival of our republic."
She noted that on the day Obama's health care overhaul passed in Congress she drew inspiration from a painting of the founding fathers that hangs in the East Gallery of the Capitol. She commented that the painting reminded her how fragile the republic really is and wanted to get into the presidential race to help restore the country's "founding principles of freedom."
In 2012, she reminded the audience, the American people will have a one-time opportunity to repeal Obama's health care law.
"I've told you the truth," she said, "our country is in serious trouble. This is our last chance. Last night the people of Iowa spoke with a clear voice and so I've decided to stand aside."
"We must be united," she said of the conservatives' quest to repeal the more liberal policies, such as health care and Dodd-Frank, of the Obama Administration.
"We must rally around the person our country, our party, and our people select to be the standard bearer. I will continue to fight."
Throughout her speech Bachmann continually brought up her faith and reliance on God.
"My faith in the Lord, country, and our republic is unshakeable," she said. "God has something greater around the corner. I am very grateful. "
"I look forward to the next chapter in God's plan. He has one for each of us, you know."
There has been wide speculation that Bachmann will either seek reelection on her old House seat or turn to the national stage as a political commentator as former vice presidential nominee Sarah Palin did.
Bachmann Drops Out GOP Race
In an interview with Politico, Ron Carey, a former Bachmann chief of staff and current Minnesota Republican Party chairman, said that the people of Minnesota "assume she'll run for reelection." As of now, no opponent has risen to challenge Bachmann for her seat, although it is still a bit early to make any predictions.
Some pundits speculate that a challenger has ceased to rise due to the fact that Bachmann still retains widespread popularity in the state. However, due to her White House bid Bachmann has missed quite a few votes in the House and it is unclear as to whether the people of Minnesota will overlook that.
While Bachmann told the audience Wednesday that she did not get into the presidential race for "vain glory or political power," the bid has nevertheless elevated her to a national level of attention and many pundits wonder if she would be satisfied going back to representing Minnesota in the House.
Her future career ambitions as well as her political endorsement of a 2012 candidate remain unclear.
Mitt Romney finished first in Iowa with 24.6 percent of the votes, while Rick Santorum came close behind with 24.5 percent. Ron Paul, Newt Gingrich and Rick Perry followed, respectively.