Baltimore Ravens Kicker Justin Tucker Sings Opera for Catholic Charity Concert
Baltimore Ravens Kicker Justin Tucker Sings Opera for Catholic Charity Concert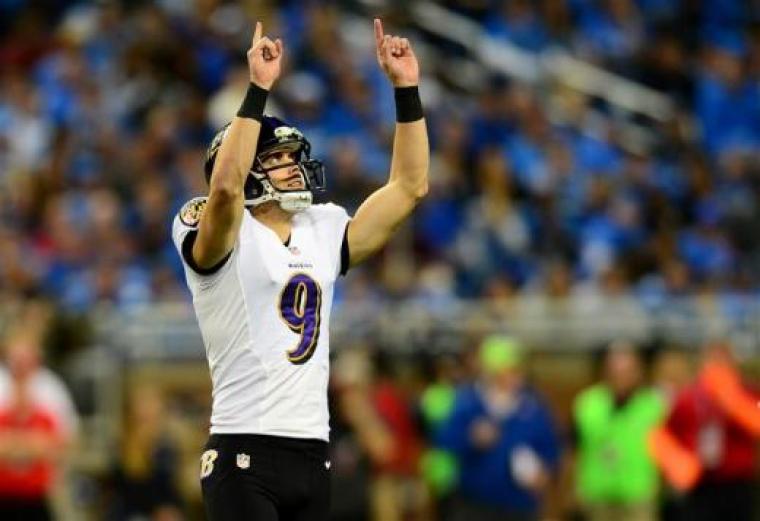 Justin Tucker may be one of the most precise kickers in NFL history, but the Baltimore Ravens player is also a skilled vocalist who is using his voice to help a Catholic charity.
The 26-year-old, who has led the NFL in field goals inside 50 yards since 2014, lent his voice to the annual Christmas Festival charity benefit created by Catholic Charities on December 10. This year, Tucker showcased his support for Catholic Charities, which is donating proceeds to Gallagher Services to help intellectually disabled adults.
"Each year, the Christmas Festival offers an evening of beautiful music during the Christmas season, and also helps Catholic Charities raise money to provide care and critical services to our brothers and sisters in need throughout Maryland," Bill McCarthy, executive director of Catholic Charities, said in a statement. "We are especially thrilled and grateful to have Justin Tucker as guest performer this year, lending both his amazing talent as a singer and his support for the work of Catholic Charities."
Tucker honed his vocal skills to sing opera music to fulfill his degree requirements in college. While he learned to sing in seven different languages, he still admitted to feeling nervous about singing at the benefit concert in front of an estimated 700 people.
"I've definitely got some butterflies, but it should be fun," Tucker said in an ESPN report  before the show.
It seems the Catholic Charities organization was happy with Tucker's performance, and took to social media to reveal that it went well.
"Thank you @jtuck9, Lara Bruckmann & @CABaltimore for making CC's 2015 #Christmas Festival extraordinary," the organization tweeted.
He prepared for the concert taking place at the Basilica of the National Shrine of the Assumption of the Blessed Virgin Mary by singing to Spotify instrumentals. Before performing "Ava Maria" at the benefit concert, Tucker revealed why he decided to do so.
"I figured if there was any way I could help out with this particular event, with this group and with this cause, I would be more than happy to," he said, according to ESPN.
Tucker is a practicing Catholic who previously told the National Catholic Register that his faith is a vital part of his career.
"Some people think it must be tough maintaining a Christ-centered life in the NFL, or in any pro sport for that matter, but I've found it to be quite the opposite," he said. "I know, without a doubt, how fortunate I am to do what I do, and I am very grateful for my opportunities. All these blessings make me think of the One who gave them to me."
After the news broke that Tucker would be showing off his vocal talents for Catholic Charities, the athlete considered the possibilities of pursuing singing a bit more.
"Hey, who knows? Stay tuned," he said. "Maybe in the offseason, we'll do something that's a little more extensive."