Barack Obama Calls Trump 'Self-Declared Savior,' Not a Republican or Conservative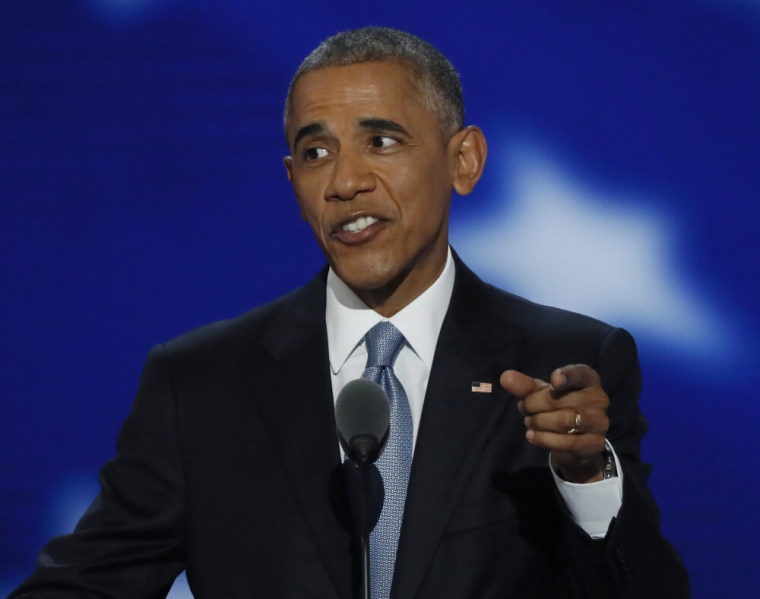 President Barack Obama declared during his speech at the Democratic National Convention Wednesday night that Donald Trump is neither a Republican nor a conservative and that America can never be aided by a "self-declared savior" like him.
Speaking about the GOP's convention last week, Obama commented, "what we heard in Cleveland wasn't particularly Republican — and it sure wasn't conservative."
"What we heard was a deeply pessimistic vision of a country where we turn against each other, and turn away from the rest of the world. There were no serious solutions to pressing problems — just the fanning of resentment, and blame, and anger, and hate."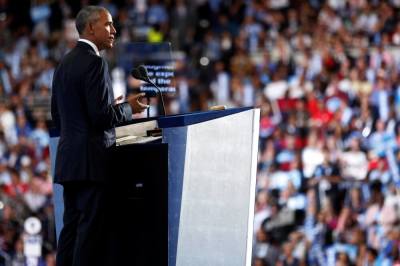 Obama went on to denounce the idea of a self-declared savior, arguing that true greatness and progress for America comes through collective action.
"And that's another bet that Donald Trump will lose. And the reason he'll lose it is because he's selling the American people short. We're not a fragile people. We're not a frightful people," continued Obama.
"Our power doesn't come from some self-declared savior promising that he alone can restore order as long as we do things his way. We don't look to be ruled. Our power comes from those immortal declarations first put to paper right here in Philadelphia all those years ago: We hold these truths to be self-evident, that all men are created equal; that We the People, can form a more perfect union."
Ironically, when Obama was running for president in 2008, he described himself as being the person who could transform the world, saying his election would lead to the "rise of the oceans to slow and the planet to heal."
Obama's comments came in support of former Secretary of State Hillary Clinton, who earlier this week became the first woman presidential nominee for a major party.
The nomination of Clinton was not without controversy, as many supporters of Vermont Sen. Bernie Sanders denounced the proceedings as rigged in favor of Clinton.
Despite Sanders' own calls for party unity, pro-Bernie attendees have staged protests and jeered various speakers who profess support for Clinton from the main stage.
For example, during the invocation prayer on the first day of the convention, when Cynthia L. Hale mentioned Clinton, a sizable part of the crowd booed and chanted "Bernie! Bernie! Bernie!"
When permanent DNC Chair Rep. Marcia Fudge gave remarks, the jeering of Clinton and vice presidential running mate Tim Kaine was so intense that she interrupted her own remarks with a couple declarations of "excuse me" to attendees.
"Let me say to you. I intend to be fair, I want to hear the varying opinions here. I am going to be respectful of you and I want you to be respectful of me," remarked Fudge.
In response to Obama's speech, many leading conservative voices noted on Twitter the president's apparent appeal to Republicans, which included among other things citing former GOP presidents Ronald Reagan and Teddy Roosevelt.
"American exceptionalism and greatness, shining city on hill, founding documents, etc., they're trying to take all our stuff," posted National Review Editor Rich Lowry.
"Still stunned. Feel like I'm in the twilight zone," tweeted conservative writer Erick Erickson. "Obama just defended America and conservative values from attacks by the Republican nominee."