Baylor basketball coach credits 'Christ-centered program' after winning 1st championship (interview)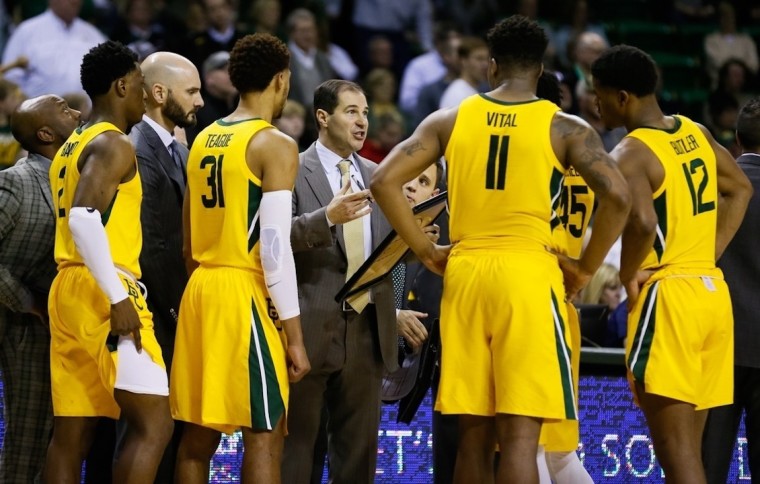 Fostering a Christ-first, others-second team model, the Baylor University Bears won their first NCAA men's basketball national title earlier this month, completing a championship turnaround over 17 years after scandal and murder rocked the program.
But unlike many other Division I basketball teams, the Bears took steps to ensure Christ was at the center of their program, not selfish ambition. 
Moments after clinching the national title and being presented with the national championship trophy, Baylor Coach Scott Drew told CBS' Jim Nantz that his team plays with a "culture of J.O.Y.," which stands for "Jesus, Others and then Yourself."
Drew, who has been the men's head basketball coach at the Waco, Texas-based university since 2003, told The Christian Post in an interview last Friday that the "culture of J.O.Y." motto factors into how the team seeks to honor God and love others.
"J.O.Y., it's pretty simple, 'Jesus, Others, Yourself. [Its] very easy to remember and yet so hard to do. But at the end of the day, we want to make sure we always honor and give credit to Jesus first, and our teammates and others second, and talk about ourselves third," Drew, the son of National Collegiate Basketball Hall of Fame coach Homer Drew, explained.
He said all Baylor coaches strive for their team to play selflessly. But with a Christ-centered approach to life, this is easier to achieve.
"As coaches, your mission and goal for any team is to put your teammates in front of yourself," he said. "Obviously, the only person you would want before others would be God. So if you could keep that priority, then obviously you're playing selfless, you're playing for others, you don't have the pressure on yourself to perform."
"At the same time, as we get older in life, you know it's much better to give than to receive. Yet, obviously, with sin in the world, we get prideful, we get jealous, we want to get the attention. So it's a constant battle …," he continued. "It's such a hard thing to actually enact. So you do have to love your teammates to put them in front of you, and it's only through God's grace and mercy are we able to do those kinds of things."
Since Baylor is a Christian university — one of America's largest Baptist universities — there are many ways for team members to become active in their faith. But the coaches seek to integrate faith into the team's routine.
Every practice begins and ends in prayer. The team also has Bible studies and holds gameday chapel services.
"So basically, everything we do is intertwined with being a Christ-centered program," he said.
While in Indianapolis for the NCAA Men's Basketball Tournament, players had the opportunity to have communion together for Easter weekend, Drew shared.
"Everyone comes into college spiritually at a different stage of life, and that's the beauty of working at Baylor," Drew said. "We're trying to prepare champions for life. So, it's a four-prong attack. It's not only on the basketball court, but it's also spiritual development, academic development and then character formation. So, what you're trying to do is to touch and affect every part of their life. Obviously, winning in the game of life is most important and that would be the spiritual part."
The Baylor atmosphere is ideal for 18 to 22-year-old college students surrounded by so much temptation, Drew explained.
"Jesus came for the sick, not the healthy, and we all sin," the 50-year-old coach said. "We're all saved by grace. So our staff does a great job at not judging people but trying to help them come along and mature as their years at Baylor progress."
Drew has witnessed this in the spiritual growth of his team. He has had years where as many as six players have been baptized in one season.
Drew, who grew up in a Christian home and was saved at an early age, said his relationship with Christ began to mature when he became involved with Athletes in Action, a Cru ministry that teaches athletes to find and grow in a relationship with Jesus.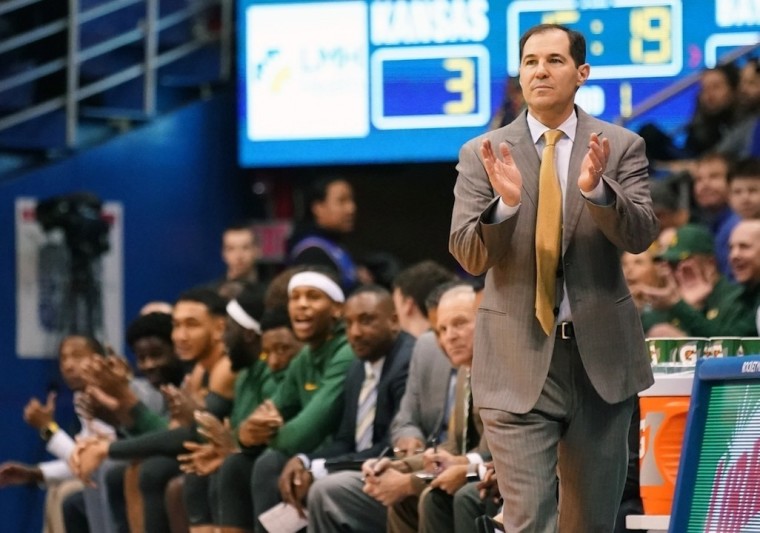 After following in his father's footsteps by coaching at Valparaiso, Drew accepted the Baylor men's basketball position in 2003 after the team had experienced the murder of one of its players by a teammate and was under fire for NCAA violations, bribery and drug use.
"When [the Baylor position] came open, the first thing I obviously did was pray about it. And then, I felt led to come here. And after meeting with the leadership at the time, I loved the vision they had for the university and the plans they had …," Drew recalled.  "They wanted to make it one of the premier Christian institutions in Division I and they had a lot of big plans as far as new buildings, new facilities and ways to honor God and bring attention to the Gospel through it."
When he arrived at Baylor, the men's basketball program had a long way to go to reach championship success after being imposed with strict NCAA sanctions and self-imposed restrictions due to its violations.  The team was also recovering from the tragedy involving the murder of forward Patrick Dennehy, who teammate Carlton Dotson shot in the summer of 2003. 
Even then, Drew never doubted the team would one day win a national title.
"[A national championship] was always the goal," he said. "We never put a timetable on it, but when we took the job, being younger, I probably thought it would happen sooner because when you're younger, you're a little more ambitious or think things can happen a little quicker than they actually do."
In recent years the team had come close to winning the title, he said. In 2010, Baylor lost to Duke University in the Elite Eight. And in 2012, Baylor lost to the University of Kentucky, who went on to win the national title.
Baylor has averaged 24 wins per season since the first year that Drew led the Bears to the NCAA Tournament in 2008. Since 2008, Baylor has become one of the most consistent men's basketball programs in the nation. Waiting nearly two decades to win the national title at Baylor made winning that much sweeter, Drew said.
"God's timing is always best," Drew stressed. "So, after being close but not having reached the Final Four or won a national championship, it made … me appreciate it that much more and know just what a blessing this year was when we made it to the Final Four and won a national championship. I think if we'd have done it in 2010, we probably wouldn't have appreciated it or understood what a blessing it was."
Oral Roberts University Coach Paul Mills coached with Drew at Baylor for 14 years before becoming ORU's head coach in 2017 and leading ORU on a Cinderella run to the Sweet 16 in 2021. 
Mills shared with CP in a recent interview how Baylor's program always emphasized that 'unless the Lord builds the house, [the labor is in vain].'"
Drew alluded to this nod toward Scripture and said a strong foundation is essential.
"If God doesn't ordain it, bless it, then it's not going to happen, it's not going to last," Drew stated. "[It's] Very similar to building and having a strong foundation on the rock rather than sand. So you gotta be prepared for when the storms come because the storms are going to come. And if you don't have that solid foundation, then you're not going to last, and it's not going to hold up."