Before shooting his teacher, 6-year-old allegedly threatened to kill student with gun at recess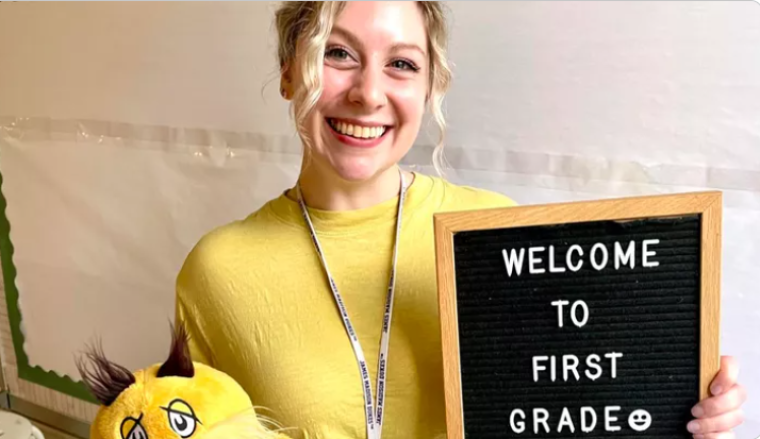 Shortly before he shot his teacher as she sat at a reading table in his class at Richneck Elementary School in Newport News, Virginia, on Jan. 6, a troubled 6-year-old boy allegedly showed off his mother's gun to another student and threatened to shoot him if he told anyone, according to a notice of claim filed on behalf of the injured teacher.
In the three-page notice of claim cited by the Daily Press of Newport News, Diane Toscano, the attorney for the injured 25-year-old teacher, Abigail Zwerner, details a history of violent behavior from the first grader toward her client, and other teachers and students before the shooting.
She also shows how the school's now removed Assistant Principal Ebony Parker failed to seriously treat warnings that the student had a gun prior to the shooting.
"Three different times Assistant Principal Parker was warned by concerned teachers or employees that the shooter had a gun on him at school," the claim says. "The tragedy was entirely preventable if Assistant Principal Parker had done her job and acted when she had knowledge of imminent danger."
A year prior to the shooting, the boy allegedly choked another teacher "until she couldn't breathe." On the day the boy shot Zwerner, the notice of claim says he had just returned to school from a one-day suspension because he allegedly "slammed" and broke the teacher's cellphone two days earlier.
Newport News Police Chief Steve Drew said during an earlier press conference that Zwerner was reportedly teaching when the 6-year-old boy brandished a firearm, pointed it at her and fired one round.
"There was no physical struggle or fight. She was providing instruction to her class," Drew said.
The police chief said Zwerner took a defensive position where she raised her hand after the student fired the gun at her.
"The round went through her hand, exited the rear of her hand and into her upper chest," he said.
According to the notice of claim, between 11:15 and 11:30 a.m. Jan. 6, Zwerner warned Parker in her office that the boy seemed more "off" than usual and was in a "violent mood." The shooter, she said, had threatened to beat up a kindergartner and "angrily stared down" a security guard in the lunchroom.
Another teacher, identified as Teacher 2, was then told at about 11:45 a.m. that the shooter had a gun in his backpack before recess. Teacher 2 reportedly searched the backpack at 12:30 p.m. but did not find the gun.
Even though the gun was not found at that time, Zwerner insisted she was "concerned that the shooter had the gun" because she saw the boy, who was wearing a hoodie, which usually has large pockets, "take something out of his backpack and put it in his pocket."
Teacher 2 raised this concern with Parker but she allegedly dismissed the concern, noting that the boy "has small pockets," instead of calling the police. Around 1 p.m., another student in Zwerner's class told another teacher, identified as Teacher 3, that the boy showed him the gun at recess and then "threatened to shoot that student if he told anyone."
Teacher 3 "kept that student in her class because he was so upset," the notice of claim says. She then told another teacher identified as Teacher 4 and asked her to raise the issue with Parker.
A guidance counselor also sought permission from Parker to search the student further but she rejected the request, noting that "the shooter's mother would be arriving soon."
In a statement on the shooting through their attorney, James Ellenson, the boy's parents say they didn't know how their son was able to access the gun because it had been secured in the home.
"Our son suffers from an acute disability and was under a care plan at the school that included his mother or father attending school with him and accompanying him to class every day. Additionally, our son has benefitted from an extensive community of care that also includes his grandparents working alongside us and other caregivers to ensure his needs and accommodations are met. The week of the shooting was the first week when we were not in class with him. We will regret our absence on this day for the rest of our lives," they said.
"We continue to pray for his teacher's full recovery, and for her loved ones who are undoubtedly upset and concerned," the parents added. "At the same time, we love our son and are asking that you please include him and our family in your prayers."