Ben Carson on What Christians Need to Do to Prepare for the Second Coming of Christ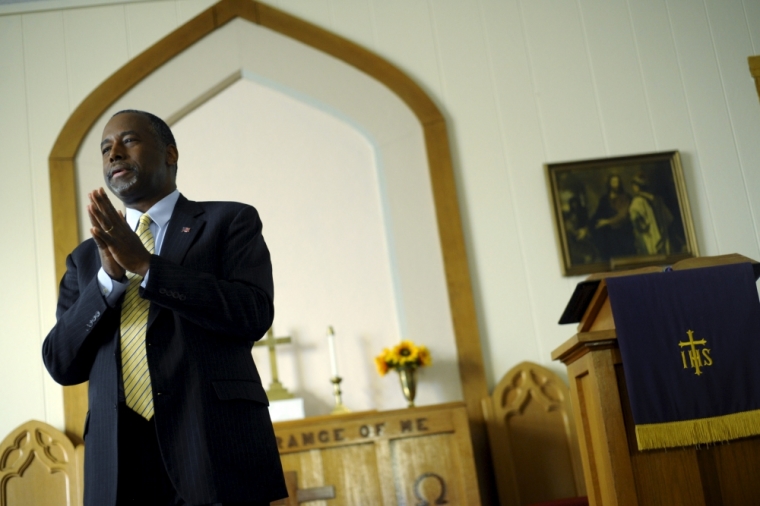 Republican presidential candidate Ben Carson considers himself an Evangelical — with an asterisk. In an interview published Tuesday for Christianity Today, the retired neurosurgeon discusses Evangelicalism, and shares his thoughts on how Christians should prepare for the Second Coming of Christ.
"I would describe myself first of all as a Christian — Evangelical in the sense that I believe we have a responsibility to proclaim the gospel and show other people why we live the way that we do and hopefully that will affect their lives," says Carson.
The Seventh-day Adventist, whose faith places great significance on the Second Coming of Jesus, says he looks forward to Christ's return and therefore lives each day as if it were his last. He prescribes the same aproach for other Christians. 
"I obviously do look forward to the return of Christ, you know, as described in 1 Thessalonians 4," Carson says. "I believe that you should lead your life in such a way that every day could be your last day."
He adds, "So you shouldn't be like planning oh, a year from now, five years, 'I'll do this or ten years I'll do this.' You need to lead the right kind of life as if you were going to die today."
That philosophy became especially relevant when Carson faced his own mortality after a diagnosis of aggressive prostate cancer in 2002. To treat his condition he underwent surgery and began an organic diet regimen. Today, the presidential candidate is cancer-free.
But don't confuse Carson's belief in the Second Coming with a lessened concern for what's going on in the world. " … [Christ's] Imminent return could mean three thousand years or 30 thousand years — or it could be tomorrow," he says. "For us to pre-define what that means in our minds and then live according to that predefinition I think would be foolish."
While no man can predict the return of Christ, Carson keeps an eye on significant world events that align with the Bible and its prophecies.
"I do recognize what is happening in the world, you know, with the radical Islamic Jihadists. I do recognize that it will not be possible to keep nuclear weapons out of their hands forever. And I do realize that they have a mindset that would not preclude them from using them. So, you know, all of that obviously is something of concern."
So much of a concern that Carson has previously expressed worry that groups with an apocalyptic worldview could become catalysts for the end times through the use of nuclear weapons.
In October of last year, The Christian Post quoted Carson as saying, "You do have people who have a belief system that sees this apocalyptic phenomenon occurring, and they're a part of it, and who would not hesitate to use nuclear weapons if they gain possession of them."
The end times are of major significance for Seventh-day Adventists, and most other Christian denominations. A 2011 aticle published in the Adventist Review entitled Pack Your Survival Kit Now, states, "As Seventh-day Adventists, we have a clear eschatology of end-time events, based on the prophecies found in the books of Daniel and Revelation. Further details of those events are outlined in the book The Great Controversy, by Ellen White."
White is a founder of the Seventh-day Adventist Church.
The article continues, " ... we do believe that the end is near and that certain cataclysmic events will take place before Christ's second coming."
Until Christ makes his appearance, presidential candidate Carson has a campaign to run. According to a CNN/ORC poll published Jan. 26, the retired neurosurgeon is in fourth place among the GOP candidates, with 6 percent support among Republican voters.
Thursday's Republican presidential debate was the last opportunity for the candidates to influence voters, using that platform, before the Iowa caucus Feb. 1.