Ben Carson Compares ISIS Militants to America's Founding Fathers, Says Islamic Terrorists Willing to Die for What They Believe In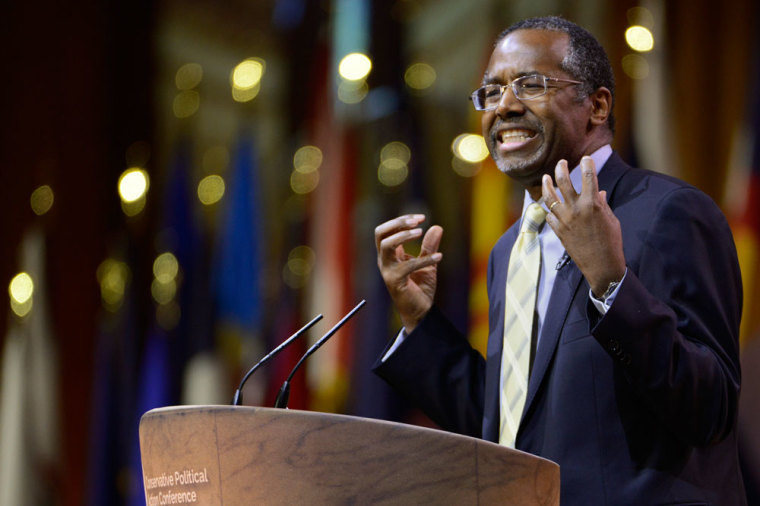 Further establishing a reputation for making bizarre and over-exaggerated political comments, prospective 2016 Republican presidential candidate Ben Carson has made yet another odd comparison: comparing America's Founding Fathers to the ruthless terrorists fighting for the Islamic State.
Speaking at the Republican National Committee's winter meeting on Thursday, the 63-year-old retired neurosurgeon and best-selling author explained that ISIS fighters are much like the brave soldiers of the Revolutionary War, who showed conviction and willingness to die for the right of independence from Great Britain.
"A bunch of rag tag militiamen defeated the most powerful and professional military force on the planet. Why? Because they believed in what they were doing," Carson said. "Fast forward to today. What do we have? You've got ISIS."
Although Carson said the radical Islamic extremist militants of the Islamic State express the same conviction that the Revolutionary soldiers did, that doesn't mean they have the right ideology, or purpose for fighting.
"They've got the wrong philosophy," Carson asserted. "But, they're willing to die for it while we are busily giving away every belief and every value for the sake of political correctness. We have to change that."
Leave it to Carson to use a comparison of America's Founding Fathers and ISIS fighters to draw attention to his strong stance against political correctness. He has made it no secret that he "hates" political correctness.
"I'll let you know why I'm not a fan of political correctness. I hate political correctness," Carson said in a speech in March of last year. "I will continue to defy the PC police who have tried, in many cases, to shut me up."
Knowing that previous comments have gained much media attention, Carson offered a disclaimer.
"Now, I recognize that there's press here and some of the press will say, 'Carson said that ISIS is the same as the United States," Carson asserted. "They are just so ridiculous, so ridiculous."
In 2013, Carson criticized "Obamacare," or the Affordable Care Act, by saying that the law is "the worst thing since slavery." In June of 2014, he called the the Affordable Care Act the worst thing since 9/11 because 9/11 was an "isolated incident."
On multiple occasions, Carson has compared the current American political climate to the likes of Nazi Germany by issuing notions such as, "we now live in a society where people are afraid to say what they actually believe."
Cason also gained media attention in late September, when he jokingly quipped that the new AP U.S. History curriculum being taught in American high schools would make students hate America so much that they would want to join ISIS.