Ben Carson: Constitution Trumps Religion; Would Not Support Either Muslim or Christian Theocratic President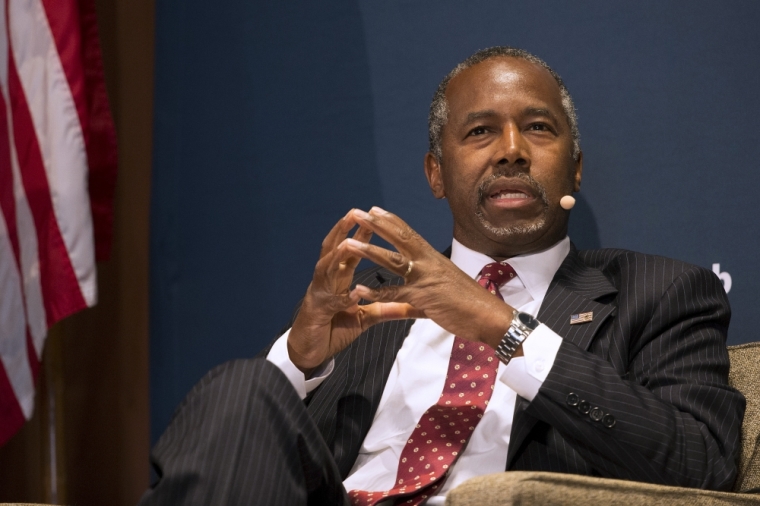 GOP presidential candidate Ben Carson said that he "absolutely" stands by his comments on Sunday that he would not support a Muslim president, but clarified that he would be opposed to any politician, including a Christian, looking to turn America into a theocracy. He argued that when it comes to the office of the president, the U.S. Constitution trumps religion.
"We don't put people at the head of our country whose faith might interfere with them carrying out the duties of the Constitution. If you're a Christian and you're running for president and you want to make this [country] into a theocracy, I'm not going to support you. I'm not going to advocate you being the president," Carson expressed in an interview with Fox News' Sean Hannity.
The retired neurosurgeon had previously told NBC's "Meet the Press" that a Muslim man or woman should not be "in charge of this nation," drawing criticism from The Council on American-Islamic Relations and some of his GOP presidential rivals, including Sen.'s Ted Cruz and Lindsey Graham.
Carson, who is a Christian, stated that it is important for a president to put the Constitution above their religion.
"Now, if someone has a Muslim background, and they're willing to reject those tenets and to accept the way of life that we have, and clearly will swear to place our Constitution above their religion, then of course they will be considered infidels and heretics, but at least I would then be quite willing to support them," he told Fox.
In a Facebook post on Monday, Carson further blasted Republicans who took an issue with his position, calling them "amazing."
"Under Islamic Law, homosexuals — men and women alike — must be killed. Women must be subservient. And people following other religions must be killed," the retired neurosurgeon told readers.
"I know that there are many peaceful Muslims who do not adhere to these beliefs. But until these tenants are fully renounced … I cannot advocate any Muslim candidate for President."
Graham had said that Carson "needs to apologize" for his comments, noting that they were particularly offensive to Muslims who serve in the U.S. military.
"This shows that Dr. Carson is not ready to be commander-in-chief," Graham added. "Mr. Carson may be a good doctor, but he is not ready to lead a great nation."
Cruz had also pointed out that the U.S. Constitution says there is no religious test for public office.
"You know, the Constitution specifies there shall be no religious test for public office and I am a constitutionalist," Cruz said.
Democratic Congressman Keith Ellison of Minnesota, the first Muslim to be elected to Congress, said in a strong-worded statement:
"It's unimaginable that the leading GOP presidential candidates are resorting to fearmongering to benefit their campaigns, and every American should be disturbed that these national figures are engaging in and tolerating blatant acts of religious bigotry."
Carson is in fourth place, after businesswoman Carly Fiorina, celebrity billionaire Donald Trump and Sen. Marco Rubio, according to a USA Today poll of political experts released Tuesday.