Ben Carson Clarifies Views on Hell, Rapture; Says Washington Post Story 'Total Garbage'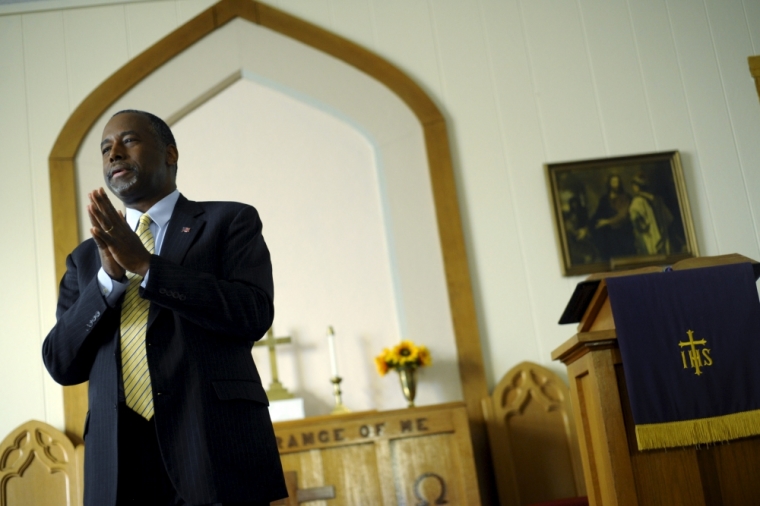 After a Washington Post article last month claimed that Republican presidential candidate Ben Carson doesn't believe in Hell or the Rapture, the retired Seventh-day Adventist neurosurgeon assured Evangelical voters on Monday that he holds "mainstream" Christian views.
In an interview with CNN's Jake Tapper, the 64-year-old Carson and his new campaign chairman, retired Major Gen. Robert F. Dees, were asked to comment on the recent shakeup of Carson's campaign staff and on the Washington Post article from Dec. 1 that stated that Carson "does not believe in Hell" and "dismisses the Rapture."
Dees, who is also the director of the faith-based Institute for Military Resilience at the Evangelical Liberty University in Virginia, told Tapper that Carson is "a man that believes in mainstream doctrine."
Carson, who has slid in the polls in recent weeks and is looking to attract the support of Evangelical voters, added that it's "total garbage" the way his theological views were portrayed by the Washington Post.
He explained that although he belongs to a Christian denomination that observes the sabbath on Saturday, there is nothing in the Seventh-day Adventist beliefs that are out of line with mainstream Christianity.
"There isn't anything that's non-mainstream Christian about Seventh-day Adventists — the one exception may be that they believe that Saturday is the Sabbath, simply because that's what the Bible says," Carson explained. "That doesn't mean that people who worship on Sunday are evil people or doomed. I don't believe that."
While many Evangelical Christians believe in a Rapture where believers are lifted up to the clouds to "meet the Lord in the air" either before or during Christ's second coming, Carson was quoted as telling the Washington Post, "I don't see any evidence for that in the Bible."
Carson used the CNN interview as a chance to say that he does believe in the Rapture, though might have a different understanding of it than some Christians.
"I don't believe in a secret rapture where people just — he's sitting here one minute and he disappears," Carson said. "I believe in what the Bible says and the book of Thessalonians where he will come, everybody will see him, people will be raised from the dead, called up."
Carson then clarified his views on Hell. After he was quoted as telling the Post, "I don't believe there is a physical place where people go and are tormented," he clarified that the forever torment aspect of Hell is what he does not believe.
"I personally don't believe in a situation where there's this dungeon and there's a bunch of little minions poking people for ever and ever and burning them," Carson argued. "That's inconsistent with the character of God, and that's not what the Bible says."
After surging in Republican nomination polls during the fall, Carson has fallen back to just fourth place in the Real Clear Politics average of Republican nomination polls with 9.7 percent of the support.
Contact: <ahref="mailto:samuel.smith@christianpost.com">samuel.smith@christianpost.com,
@IamSamSmith
(Twitter)