Ben Carson Rips Republicans for Funding Planned Parenthood, Supporting Refugees in Spending Bill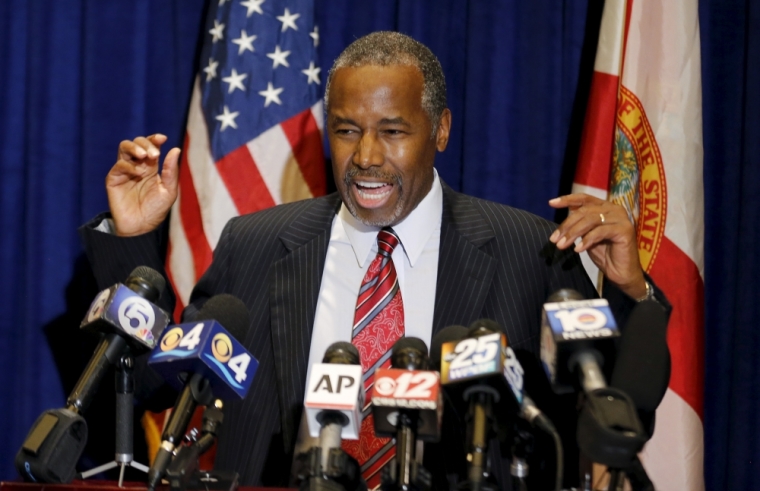 GOP presidential candidate Ben Carson has ripped Republican leadership for agreeing to a new $1.1 trillion spending bill, claiming that America's grandchildren will look at it as the week "America failed."
"You need no further proof than what the GOP Leadership did to us in the new spending bill. Billions of new unfunded spending. Mountains of new debt. Not to mention funding to bring Syrian Refugees into our country and to keep funding for Planned Parenthood," Carson told supporters in a Facebook message on Sunday.
"I am angry but no longer shocked. Some of my colleagues running for President talk a big game. They give angry speeches but when the votes were counted none of them even tried to stop this deal. They take their special interest money, collect their paychecks and pensions and give us only rhetoric," he added.
Obama signed the Omnibus Appropriations Act last week, which was passed by a 65-33 vote in the Senate, and a 316-113 vote in the House. The $1.1 trillion funding bill is expected to keep the government running until September 30, 2016.
NPR pointed out that conservatives pushing for a halt to the Syrian refugee resettlement program failed to get such a condition included in the bill, while women's health and abortion organization Planned Parenthood celebrated the bill that fully funds its efforts well into 2016.
"Extreme members of Congress spent an entire year targeting access to reproductive health care at every opportunity," said last week Dana Singiser, vice president of public policy for Planned Parenthood. "Today's budget bill maintains access to critical preventive health services and lacks these harmful attacks on women's health care — at home and abroad."
Carson, who has opposed both abortion and allowing more Syrian refugees into America, said that since America's grandchildren will be "left with these outrageous bills," not a single member of Congress should dare ask for a pension
"Someday when your grandchildren ask you why America failed, you can point to this week. You can tell them it was because our leaders were afraid to do what was right because it was difficult," the retired neurosurgeon said.
"We have but one last best chance. I promise to work even harder. But without joining hands it simply cannot be done. We must all do things we have never done before," he added.
While the White House celebrated the budget deal as a substantial victory, with spokesman Josh Earnest slamming Republicans opposed to the deal for attempting to "advance their ideological agenda," other GOP presidential candidates, such as Sen. Rand Paul, claimed no one even took the time to read the bill.
"It was over a trillion dollars, it was all lumped together, 2,242 pages, nobody read it, so frankly my biggest complaint is that I have no idea what kind of things they stuck in that bill in the middle of the night," Paul, R-Ky., told New York-based radio talk show "The Cats Roundtable."
"I voted against it because I won't vote for these enormous bills that no one has a chance to read," the Republican candidate added.
Paul took aim not only at Democrats, but also at Republicans who, he argued, compromised with left-wingers to get both military and welfare spending. He called such dealings an "unholy alliance" where "everybody gets money," but the American taxpayer "gets stuck with the bill."