Ben Carson: My Denomination Should Ordain Women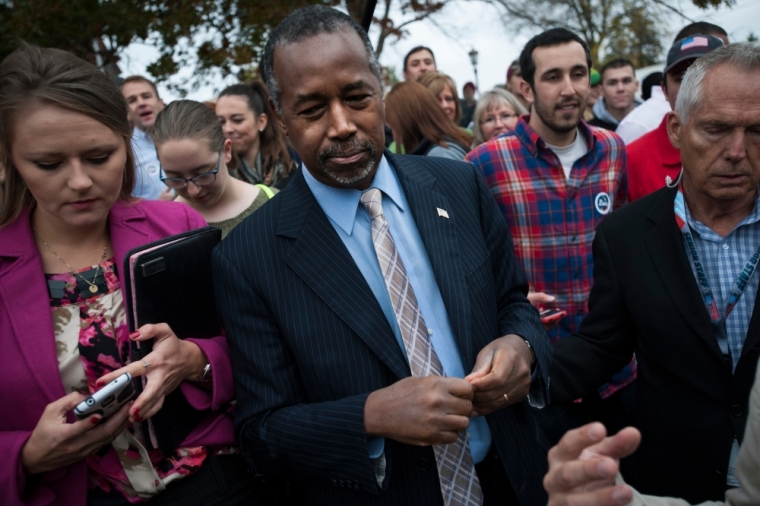 Seventh-day Adventists voted earlier this year to block the approval of women to be ordained in the denomination, a decision Dr. Ben Carson says he disagrees with.
During an interview with The Associated Press on Friday, the retired neurosurgeon opened up about his membership in the relatively new Protestant denomination founded in 1863.
"I don't see any reason why women can't be ordained," Carson said, adding that July's vote which barred female ordination was "a huge mistake."
The denomination voted 1,381 to 977 during their 60th General Conference Session meeting in San Antonio, Texas, against allowing female clergy. More theologically conservative Seventh-day Adventists from Africa and Latin America played a critical outcome in preserving the historically traditional view.
Many Christian traditions and denominations still require ministers and pastors to be male, including Southern Baptists, the largest Protestant denomination in the United States.
On the campaign trail, speaking in churches and during public interviews, Carson has strayed away from specifically talking about his denomination, which has a little over 18 million followers worldwide and is perhaps best known for its belief in holding the Sabbath on Saturday.
Carson, who has reiterated that he focuses on his faith in God and that's not "denomination specific," told the AP that he expected Donald Trump and his supporters might try to stir up controversies surrounding his faith background.
"Donald Trump is Donald Trump. It doesn't surprise me that he's doing that. I would only be surprised if he didn't," Carson asserted. "There's a lot of things that are done in politics that are not fair, but when you get into the fray you have to expect those things."
Trump said of Carson and his denomination at a campaign rally in Florida in late October: "I mean, Seventh-day Adventist, I don't know about."
The billionaire GOP frontrunner added that his own Presbyterian faith "is middle of the road."
Many Christian theologians historically have treated Seventh-day Adventism as a cult or Christian sect that believes in extra-biblical prophecy and eschatology, although that interpretation has rapidly dwindled since the denomination has mainstreamed many of its views to align with tradition and Scripture. Seventh-day Adventists now assert that the Bible is the only authoratative book on their faith.
Carson told the AP that a lot of people often misunderstand the teachings of the Seventh-day Adventist faith.
In the past, Carson has served as an elder within the denomination that has 1.2 million American members. He noted that he and his wife often watch sermons and services of Seventh-day Adventist ministers and churches while on the campaign trail. Carson and his wife are currently members of a Seventh-day Adventist Church in Spencerville, Maryland.
Carson has stated that his faith has played a significant role in his early development when he turned to the Bible after he tried to stab a fellow student at age 14.
"The knife blade struck [the young man's belt buckle] with such force it broke and of course, he fled in terror. But I was even more terrified because it dawned upon me that at that moment I was trying to kill somebody over nothing," declared Carson.
"I just fell on my knees [in the bathroom] and started praying. I just said, 'Lord, there's got to be something better; I can't control this.' And there was a Bible, and I picked the Bible up and it just opened to the book of Proverbs, and I started reading and there were all these verses about anger and what happens to angry people."
The presidential candidate, who is currently leading in Iowa in several polls, has said that since he has found God and the Bible his temper has been under control.