Ben Watson Says Post-Game Prayer Is What He Misses Most About Football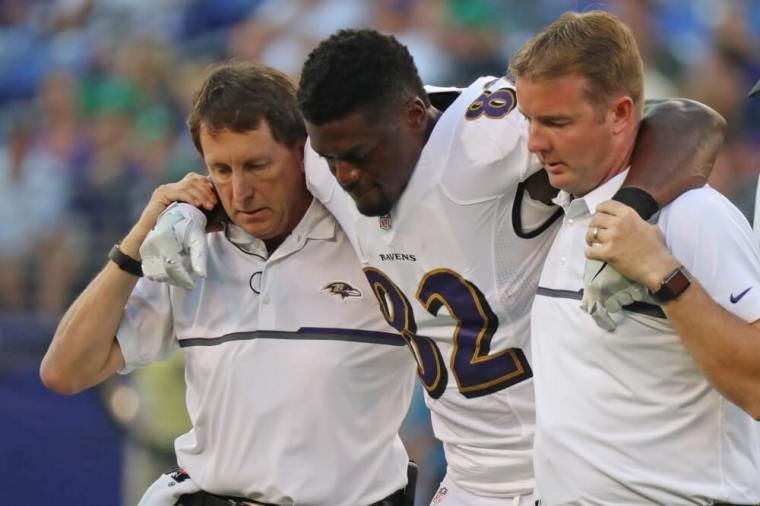 Baltimore Ravens tight end Benjamin Watson missed the entire 2016 National Football League season due to injury and says there is one thing he missed the most about playing football and it's not scoring touchdowns.
Coming off arguably his best statistical season of his 12-season career with the New Orleans Saints in 2015, the 36-year-old former Georgia Bulldog was looking forward to starting the next chapter of his career with the Ravens on the right foot until an Achilles tear in the preseason ended his chances of suiting up for Baltimore this season.
Watson, a devout Christian who is never afraid to share his faith publicly, took to his social media accounts Sunday night to let his followers know what it was that he missed most about the playing the game this fall.
For Watson, the thing that he missed the most was not catching touchdowns, making big blocks and getting crucial first downs when the team needs it the most. For him, it's the time spent in prayer with his teammates and opponents after the games that makes playing football more worthwhile.
"Some people have asked what I missed most about being unable to play this season," Watson wrote on Facebook and Instagram. "At the top of the list is that special moment after every game when opponents unite as brothers to give thanks to their Father."
Along with his post, Watson shared a picture of him leading both Saints and Green Bay Packers players in prayer following a game. In the picture, Saints and Packers players held hands while they were down one knee with their heads bowed to the Lord.
Even though Watson hasn't been able to play football in months, he has been able to meet some of his own rehabilitation goals.
"One of my goals when I tore my Achilles in August was to be able to pull my kids in the sled when the first snow fell," Watson wrote on Facebook Sunday. "Don't have the picture to prove it but I was a sled pulling machine yesterday! Mission accomplished! Praise God for healing."
Despite the fact that Watson has been on the sideline all season, he made the most of his time off the field by not only spending time with his five children but also working on his new book, The New Dad's Playbook: Gearing Up for the Biggest Game of Your Life, which is set to be released in May.
The New Dad's Playbook, will serve as "a practical and encouraging guide for rookie and veteran dads alike that will empower and equip them to be the supportive and informed partners that their spouses need while preparing them for the greatest game of their life, Fatherhood."
"After five very different pregnancies and births, I hope my failures, victories and teachable moments provide an additional resource for men who want to be great lovers, comforters, protectors and providers during this special time but sometimes don't quite know how," Watson wrote.